A BEAUTIFUL DAY IN THE NEIGHBORHOOD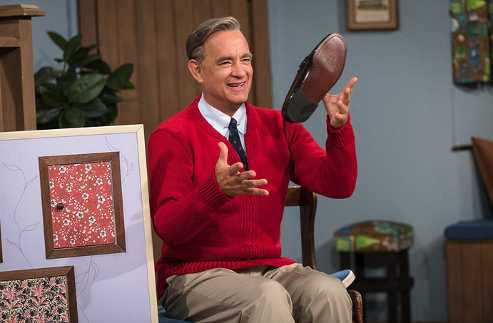 Cast: Tom Hanks, Matthew Rhys Lloyd, Chris Cooper
Director: Marielle Heller
109 mins
Fred Rogers was all that he seemed - a man whose main purpose in life was to make every child feel loved. A Beautiful Day in the Neighborhood pairs Mister Rogers (Tom Hanks) with a cynic - an Esquire magazine journalist named Lloyd Vogel (Matthew Rhys) who is on assignment for a profile he didn't ask for and assuredly does not want to do, as he doesn't believe in benevolent patriarchs. The root of this attitude is his fury toward his father (Chris Cooper), who abandoned the family when Lloyd's mother became unwell and now that anger is disrupting Lloyd's ability to be present with his wife, Andrea (Susan Kelechi Watson), and baby son. What is Mister Rogers to do? He gives Lloyd a safe space to show his vulnerability, gently but firmly ushering the journalist into his "neighborhood," (American spelling for any other non-American pedants) with its primitive puppets and toytown choo-choo train. He looks into the camera and tells the viewers, "Meet my friend Lloyd."
In other hands, this could be quite a horror story, but here it's a route to salvation, and although the thought may well have your eyes rolling - Mister Rogers has a way of disarming doubters who fall into his orbit, and astonishingly the film does, too. The downside is the excessive amount of time devoted to solving the problems of the thoroughly unsympatheric Lloyd Vogel, who is based on the magazine writer Tom Junod. Mister Rogers says everyone is special – and one of his weirder lyrics was, "Everybody's fancy, everybody's fine. Your body's fancy and so is mine." Sort that one out. Crisply directed by Marielle Heller, the film has a neat visual hook. The cityscapes are cardboardlike, as in Mister Rogers' Neighborhood, and Mister Rogers introduces the film as Lloyd's story. He's the host, as he opens with, "It's a beautiful day in the neighborhood, a beautiful day for a neighbor - would you be mine?" while jauntily changing from a sporty jacket and formal shoes to a zip-up sweater and soft shoes. It's Tom Hanks merging his own gentle public persona with the actual Rogers, and allowing a slight element of irony to creep in — as if Rogers sees through Lloyd's obfuscations. Hanks' Mister Rogers is a better interviewer than Lloyd - he knows his effect on people. He takes a naughty pleasure in stopping his show's recording for over an hour to play with a visiting autistic boy and the film is occasionally hilarious, such as when we see Mister Rogers doing things on-camera (messing up the folding of a tent, for example, but refusing to do another take) that no TV host is ever supposed to do - you might even call him subversive. Matthew Rhys' Lloyd is highly-strung and with no evident equilibrium, but the role really could have benefitted hugely by being in the hands of a wilder, more profane or scuzzy actor. As Lloyd's dad, Cooper has some scuzziness, but he loses his edge along with everyone else. Regrettably in its final act, A Beautiful Day in the Neighborhood slows down and becomes overly maudlin, as if Mister Rogers had weighed in on the story line.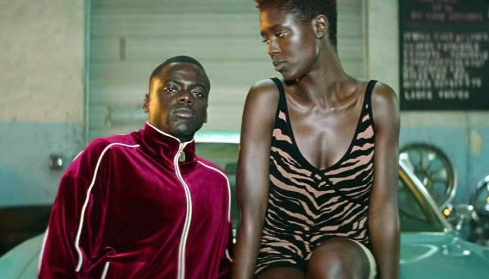 Cast: Jodie Turner-Smith, Daniel Kaluuya, Bokeem Woodbine
Director: Melina Matsoukas
132 mins
Part of the power of filmmaking is that it can put a human face on the black experience in America. It's one thing to read yet another story about a police officer assaulting an unarmed black person, but it's another to watch a film that treats the victim like an actual individual, as opposed to a statistic. Director Melina Matsoukas does this with her feature debut, Queen & Slim, a film about a pair of outlaws on the run, in the tradition of Thelma & Louise. A moving love story at its core, Queen & Slim is a lyrical piece of cinema that resonates with social relevance, yet always feels very personal. The tale begins on a chilly night in Cincinnati, as a pair of Tinder users (Jodie Turner-Smith and Daniel Kaluuya) meet up for what proves to be an awkward dinner date. On the drive home, the two are pulled over by a (white) cop for a minor traffic violation in a situation that progressively escalates, and results in "Slim" shooting the police officer in an act of self-defence. Terrified, he and "Queen" decide they have no choice but to go on the run, and set out for her Uncle Earl's (Bokeem Woodbine) place in New Orleans, in an effort to lie low and figure out their next move. But when footage of their incident goes viral, Queen and Slim evolve from being labelled cop-killers in the news to a symbol for black Americans who've long been traumatised and terrorised by the law.
The film starts off almost like a rom-com about two utterly mismatched people on a meet-up (Queen is an uptight defence attorney and atheist; Slim is fairly outgoing, works behind a cash register, and prays before every meal), and it serves to make the pair all the more sympathetic before their lives take a sharp turn in an unexpected direction. Queen & Slim was scripted by Lena Waithe, from an original screen story that she wrote, and she brings a sense of every day situational humour to the project. It's fitting too, as Queen & Slim is as much a story about relationships and love and the things worth living for in a terrible world, as it is an on-the-run thriller. By embracing the cringe comedy inherent to the idea of two individuals who barely know each other becoming fugitives together, the film succeeds in grounding Queen and Slim's struggles in a way that a more po-faced approach wouldn't have been able to. But of course, Queen & Slim is serious and sincere when it comes to dealing with police brutality and the pain and suffering it inflicts on black America. It's a film that reclaims the narrative by allowing black artists to tackle these issues from both sides of the camera, via a story that explores how the idea of Queen & Slim the couple ("The black Bonnie & Clyde", as Earl refers to them) means something very different to different people, depending on their age and race. And as clever and often subversive as the writing is, it's the performances that really brings out the humanity in the film's characters and makes them feel alive. Kaluuya once again does powerful work here as Slim (with a turn that's more about his internal emotions, rather than external), yet it's Turner-Smith - a relative newcomer - who breaks out as Queen. It's satisfying to watch as she slowly lowers her emotional defences and opens up to Slim over the course of their journey, even finding her own sense of spirituality along the way.
Stylistically, Queen & Slim is firmly rooted in black culture, from its soundtrack and settings to the multi-coloured sex worker and pimp outfits that Earl (who's played wonderfully by Woodbine) keeps his home stocked with. Tat Radcliffe's cinematography similarly draws on a richly-hued and often poetic vision of rural America today - one where traumatising reminders of the past still linger for many black Americans (as in a potent scene where Queen spots convicts plowing a field like slaves on a plantation). Queen & Slim is a very assured and confident feature debut for this filmmaker.