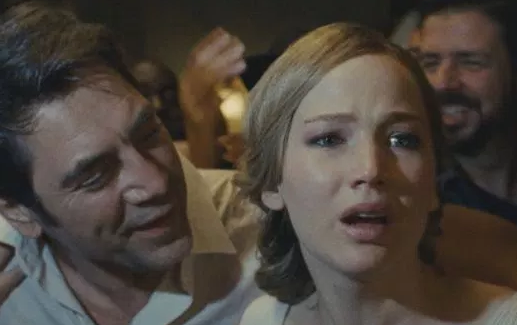 Cast: Jennifer Lawrence, Javier Bardem, Ed Harris, Michelle Pfeiffer
Writer/Director: Darren Aronofsky
Duration: 120 mins
Darren Aranofsky can certainly astound when he is focussed and operating with at least a little self-restraint, but when given free rein to run amok, he comes up with pretentiously intense weirdness such as this. Note the stylised use of the exclamatory punctuation mark - it's the first sign of the self-indulgent muddle awaiting viewers in this overbearing film that positions itself initially as a pseudo-psycho thriller about the secret, seedy misery of an upper class couple, before suddenly re-routing into a cul-de-sac of heavy-handed religious allegory in a final act that disintegrates into poor taste. Aronofsky channels Luis Buñuel and Roman Polanski in his tale of a recently married couple played by Jennifer Lawrence and Javier Bardem. He's a writer and she's his muse, though his huge struggle with writer's block dominates his frustrated narcissism while she works on restoring his isolated family home. This is punctuated by scenes of her wandering around barefoot throughout the enormous environment and experiencing visual and auditory hallucinations.
It quickly becomes evident that there is a deep tension between to the two - she's clingy and insecure, and he's condescending and dismissive of her. She also just might be going bananas. A strange twist occurs when a man (Ed Harris) arrives at the house, apparently under the misguided and mysterious apprehension that it is a bed and breakfast establishment. Not only does he insinuate himself into their domestic life, his wife (Michelle Pfieffer) and later their squabbling and estranged sons (Brian and Domnhall Gleeson) show up too. Soon we're knee-deep in heavy drinking, invasions of privacy and bloody violence. Lawrence's character grows understandably distressed, and Aronofsky does at this stage build a nice amount of tension and dread - alas though - for a pay-off that fails to materialise. Things get progressively weirder, with Bardem's latest prose drawing a literal horde of fans to the house. A cult forms and then splits, riot police arrive, and a bizarre war is fought inside the house — all within 20 mind-bending minutes. When the revelation occurs – but only after it's been well telegraphed - it's little more than a clunky metaphor that feels more self-indulgent and idiotic than revelatory. It's also an incredibly egotistical and self-serving one. When viewed from the angle of Bardem's character as a proxy for the filmmaker, it becomes clear that the film is little more than the self-portrait of a self-important artist, and a treatise that collapses under the weight of a director's misfiring arrogance.
Cast: Sverrir Gudnason, Shia LaBeouf, Stellan Skarsgard, Tuva Novotny, Ian Blackman
Director: Janus Metz
Duration: 100 mins.
On the eve of the 1980 Wimbledon Championships, Swedish top dog Bjorn Borg (Sverrir Gudnason) faces the prospect of not being able to achieve his fifth straight win when pitted against rising American tennis ace John McEnroe (Shia LeBeouf). Whilst this is certainly an entertaining film, there's a sense of incompletion in the detail of Bjorn Borg and John McEnroe's tennis court rivalry. Essentially what director Janus Metz offers is a biopic of Borg, with McEnroe more of a side-character. The dramatic thrust is essentially Borg's resentment at how, only in his early twenties, he's already on a physical decline, as he begins to sense a depreciation in his status as the best player in the world. He knows a post-No. 1 future awaits him, this despite being surrounded by nothing but support, from his paternal-like trainer (Stellan Skarsgard) and his fellow tennis champion wife (Tuva Novotny).
Mostly shot in Swedish, it's still a polished piece, offering solid recreations of Wimbledon centre court and New York's famous Studio 54 night club. The usually controversial Shia LeBeouf is ideally cast as the supremely talented and outspoken McEnroe and he seems to deeply empathise with his character, whose pursuit of excellence comes at the expense of every relationship in his life. The public loathes him on-court, but just like LaBeouf himself, his talent can't be denied, and that's what makes Borg sweat. A full 30 of the 100 minute film is devoted to the Wimbledon final match, but fans of the sport will know that the events of the following year's Wimbledon offered the film an interesting epilogue that more could have been done with. Overall, however, the result of the film, if uneven, is still engrossing.