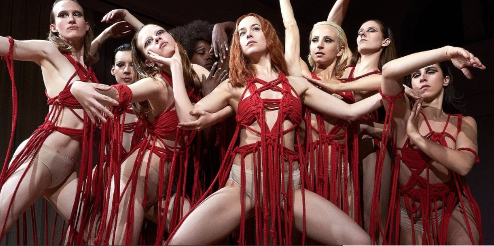 Cast: Dakota Johnson, Tilda Swinton, Mia Goth, Lutz Ebersdorf, Angela Winkler, Ingrid Caven, Elena Fokina, Sylvie Testud, Renée Soutendijk, Chloë Grace Moretz, Jessica Harper
Director: Luca Guadagnino
150 mins
Luca Guadagnino's pointless remake of Dario Argento's highly-regarded Suspiria is a preposterous, pretentious, self-serious, funereal, pseudo-realist drama about political upheaval and the violence of a system that is at odds with itself. It's the kind of astoundingly bad film only a buffoon filmmaker can make: bloated, confoundingly sloppy, unwaveringly self-assured and rampant with indecision. Nothing more than a visual montage of abominable self-indulgences that any editor worth their salt would have abandoned during post-production. Certain sections such as an early dance sequence that uses complex intercutting and choreography—not to mention the sounds of bones snapping, skin splitting, and bodily fluids spilling, show a vicious and unimaginative depiction of bodily suffering.
The film takes place in Berlin, during 1977. Stories of the Red Army Faction and the Lufthansa Flight 181 hijacking play on televisions and appear on the front pages of newspapers. A young girl, Patricia (Chloë Grace Moretz), pounds ferociously at the door of her psychiatrist, who lets her in and listens as she rambles on about witches and conspiracies at her dance company. "They'll hollow me out and have my cunt on a plate," she says, charmingly, before disappearing into the night. An old man named Klemperer (played by a younger actress - this is an all-female cast - layered with duff ageing prosthetic make-up) is given his/her own ludicrously unintelligible sub-plot about a wife who went missing during the Holocaust, and who comes to represent the indelible atrocities of the past. The oldie embarks on a quest to get to the bottom of Patricia's story. Susie (Dakota Johnson), a talented dancer from Ohio, arrives at the Markos Dance Academy, where she immediately impresses the blank oddball choreographer Madame Blanc (Tilda Swinton), and promptly becomes an object of desire for the witches who lord over the academy and who seek to find a young woman such as Susie as a vessel for their ailing "mother" (oh - and just wait until you cop a look at the stupefyingly bad prosthetics on this item!). Swinton, who actually gave an excellent performance as a mostly mute rock star in Guadagnino's previous film A Bigger Splash, is all concerned stares and fag-ends, but who never seems particularly insidious or dangerous.
Suspiria is a largely befuddling accumulation of shots and sounds that never coalesce. Guadagnino uses cinematographer Sayombhu Mukdeeprom, who also shot the brilliant Call Me By Your Name, but their pairing in this fails to grasp anything bordering on the standards of their previous work, as the relationship between shots and direction is rarely meaningful or considered, and the editing is carried out devoid of any real interest. This sense of deceptive disarray also extends to the music – provided by Radiohead's Thom Yorke – with his score, eerie and discordant and full of his usual torn-faced malaise and paranoia. Suspiria is, from its frazzled opening moments to its incongruous, blood-drenched climax - a frustratingly shambolic disaster.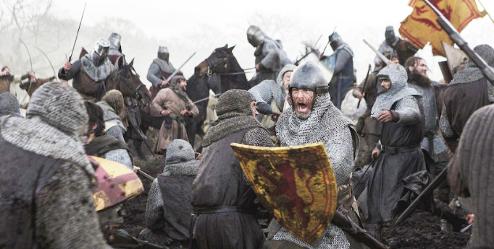 Cast: Chris Pine, Aaron Taylor-Johnson, Florence Pugh, Tony Curran, Stephen Dillane, Billy Howle, Callan Mulvey, Steven Cree
Director: David Mackenzie
121 mins
David Mackenzie's portrait of venerated 14th-century freedom fighter Robert the Bruce takes a rugged but sombre approach to conveying the struggle involved in rallying Scotland's disparate clans against English oppression. The particulars are often fascinating, and all the languorous early solemnity eventually fades as a more rousing finish reaches the screen. This Netflix-distributed feature strives hard to equal Mel Gibson's award-garlanded Braveheart in its gritty authenticity, but that standard-setter's memorably authentic quality is clearly a far battle cry from this. We're told earlier in this that an overmatched William Wallace has gone into hiding – that is before we see the gruesome evidence of his execution – and you would be advised to prepare yourself for a great deal more gore to follow. The film is intent on dashing the romantic myths of Gibson's film and many other medieval dramas, laying bare the grimy truth of period warfare. But what was that truth? A lot of men charging at one another in fields, whacking folk off their horses with swords, and mud — so much of the stuff that it deserves a credit in the end titles. Robert was a noted tactician, and Mackenzie wants to dramatise that, though the king's idea of tactics mostly involved baiting English soldiers to charge into slimy pits littered with spikes. Although set in the early 1300s, the patois is compromised into modern parlance, regrettably, as the film is clearly victim to commercial investor pressures. However, Outlaw King is caked with the grubby details of that time and may prove to be too much of a bloody slog for some - while others will be on board for every gruesome minute. In Braveheart, Scottish independence was a matter of honour, and the initial Wallace campaign was more direct. Outlaw King picks up not long after Wallace has been defeated and sees Robert navigating the tricky politics of swearing loyalty to King Edward without losing the respect of his countrymen. Also in the mix are John Comyn (Callan Mulvey), a rival for Scottish leadership; Robert's father (James Cosmo), preaching peace; and Prince Edward (Billy Howle), the king's son, who has a chip on his shoulder about his own military prowess. Chris Pine portrays Bruce as a muted, equable figure – but whilst appreciating the box-office power of a name US actor in the lead, personally I'd have auditioned from the many fine home-grown male acting talent to fuel the authenticity in taking on the role.
The Scots' growing unrest prompts Bruce to reject the reluctantly pragmatic vows of fealty to ruthless King Edward I (a superb Stephen Dillane). The Bruce then prepares to resurrect the rebellion, even if it means taking startling measures to resolve a longstanding feud with fellow nobleman John Comyn and his clan. Aaron Taylor-Johnson offers a view of another sort being gathered to the cause, land-robbed noble James Douglas, whose unhinged, manic demeanour is soul-battered but unbeaten as he humbly pledges allegiance – with his berserk bloodletting during a chapel ambush of occupying English forces making for the film's most vivid battle sequence. Conversely, Florence Pugh is a striking image of strength and grace as Elizabeth de Burgh, Bruce's English bride by arranged marriage. Outlaw King might not replace Braveheart in the public eye, given how actively it resists the inspirational trope of combat automatically conferring glory. In Mackenzie's film, surviving any battle requires a mix of luck and daring, and even legendary figures like Robert the Bruce struggle with the costs that come with freedom fighting. But the film is a necessary antidote that burrows into the mind through sheer, mucky tenacity.