Cast: Brie Larson, Woody Harrelson, Naomi Watts, Ella Anderson, Chandler Head, Max Greenfield
Director: Destin Daniel Cretton
102 mins
This is the story of a man who tells his young daughter that he has spent most of his life being chased by a demon. The girl doesn't understand what her father means and it's not until years later that she can even comprehend a possible explanation for the sinister metaphor that seems to be behind every facet of her dad's behaviour, choice, and attitude throughout his entire life. A simpler narrative would emphasise the eventual revelation as being of the the utmost importance to the story and the characters - as a justification for the pain and uncertainty through which the father puts his family. However that's not the case with The Glass Castle, as the young girl takes many years until her father is lying on his death bed before fully understanding that this person whom she thought she knew, was actually a ball of inexplicable pain and confusion. The fact that he doesn't even voice the truth means that he doesn't want an excuse. He may not understand his problems enough to fix them, but at least he knows that they are his problems — not his wife's, not his daughter's, nor those of any of his other three children.
The film is based on the memoir by Jeannette Walls, who is played by three different actresses at four different points in her life. At the start, in 1989, Jeannette (played by Brie Larson from teenager to adult) is living in New York City, writing a gossip column for a local newspaper, and engaged to David (Max Greenfield). While taking a taxi home after a business dinner, the cab bumps into a homeless man, whose wife is digging through some refuse on the pavement. They are her parents. The story then juxtaposes between Jeannette's life in the city, trying to move past her childhood as the member of a family of vagabonds, led by her father Rex (Woody Harrelson). Rex can't hold down a job long enough to rent accommodation, let alone buy a home, and the family's stops in various places are usually interrupted when Rex gets into some legal difficulties on account of his excessive drinking.
Chandler Head plays Jeanette as a young child and Ella Anderson as an older version. The remaining family includes her mother Rose Mary (Naomi Watts), her elder sister, a younger brother named Brian and baby sister Maureen. It's a quirky tale at first, since Jeannette can only assume that this erratice travelling life is normal. She knows that other children go to school, but Rex has taught his that reading books on their own is as good an education as any, and has promised everyone that they'll settle down one day in a glass castle he's designing. As a child, Jeannette is accidentally engulfed in flames fire while cooking, because her mother is too busy painting. As she gets older, it becomes clearer that her parents are in a co-dependent relationship, with her father's intense mood swings tied to his alcoholism and that the only people on whom she can really count are her siblings. Later on, while visiting her paternal grandmother, she interrupts an act of abuse that might explain the demon from which her father is running.
It would be easy to turn this material into something uplifting—about escaping such circumstances, since we know that she has, or learning to accept even the most dysfunctional family as family, despite the problems. The climax, in which Jeannette must decide how to feel about her father, certainly leans toward this, but even then, it's shrouded in mystery and uncertainty. Despite the focus on Jeannette's past and present, The Glass Castle is really about Rex, played by Harrelson with a deep level of pained regret and resentment. It's as if the writer/director sensed more dramatic possibilities in that character than in their main one, who remains an aloof presence, despite Larson's excellent performance.
KINGSMAN: THE GOLDEN CIRCLE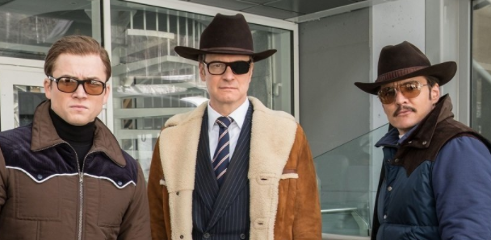 Cast: Taron Egerton, Colin Firth, Julianne Moore, Elton John, Mark Strong, Channing Tatum, Jeff Bridges, Pedro Pascal, Halle Berry
Director: Matthew Vaughn
141 mins.
"Kingsman: The Golden Circle" features Oscar winners, sayonara by meat grinder and a hideously hammy Elton John. This is, to tentatively approach cliché-territory, 141 minutes you'll regret losing from your life, as both Halle Berry and the again bizarrely-Scottishified Mark Strong drearily drone through a tedious 'meanwhile, back at headquarters, staring at computer monitors' number.
When we last saw Harry (Colin Firth), he'd been blasted in the eyeball at point blank range and unsurprisingly was presumed dead. However – here he is in "The Golden Circle," and it transpires that his life wasn't misplaced but he has lost his memory and indeed his marbles, and is chuggling along in a rubber room with a passion for butterflies. Things are swinging for this Lazarus of Savile Row.
The under-directed and out of control performances continue with Julianne Moore severely over the top as villainous Poppy who infects umpteen nations with a deadly virus direct from a bizarre jungle location in Cambodia. Her cannibalistic burger machine and snarly canine robot chums adorn her 1950s lair. The Kingsman gang collaborates with its American counterparts, the men and apparently sole woman (Ms. Berry, staring at screens) of the super-spy organisation Statesman. This is in Kentucky, where we last saw Harry slaughter a church full of white supremacists in the first film's most outlandish scene. In order to locate the antidote for the deadly virus, Eggsy (Taron Egerton) and the Burt Reynolds look-alike agent Whiskey (Pedro Pascal) track down the girlfriend (Poppy Delevingne) of the robotic-armed superhenchman (Edward Holcroft) to the Glastonbury Festival. It's up to Eggsy to to implant a fingertip-mounted bugging device inside the groupie's genitals, complete with point-of-view shots of the surveillance microbe slooshing down the water slide at high speed. This really doesn't belong in a "Kingsman" outing, nevertheless in the worst possible way, anything, apparently, now goes.
The entire enterprise is little more than a regular array of umpteen bodies thrown, sliced, minced or bounced on the street, or down a mountain side, to frustratingly little cumulative effect.