PROFESSOR MARSTON AND THE WONDER WOMEN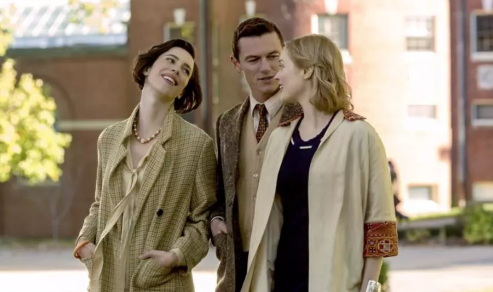 Cast: Luke Evans, Rebecca Hall, Bella Heathcote
Writer/Director: Angela Robinso
108 mins
"Professor Marston and the Wonder Women" is a biopic about the man who dreamed up the comic character Wonder Woman and it also hints that his inspirations were multiple — that more than one woman went into the creation of Diana Prince. About the only thing the title doesn't tell you is that the film is a loving, sensitive exploration of S&M bondage techniques and polyamorous relationships. Which, of course, makes it sound far more lurid than it is. In actual fact "Professor Marston" is an attempt at a mainstream breakthrough but ultimately falls short in this regard, offering a relatively stodgy and stuffy focus when it comes to dealing with these issues, ironically held in check by certification limits. It certainly obeys the rules of the biopic genre, with a central character narrating us back through the lives in question and expert attention to period dress and décor. Yet its portrayal of William Moulton Marston (Luke Evans) and the two women he loved — there were more in real life, but let's not explore that avenue — is tender, loving, and open to anything that consenting adults choose to do behind closed doors.
"Professor Marston" finds the titular character ensconsed at Harvard University in the Roaring '20s, giving lectures on psychology to enraptured Radcliffe students while his scholarly wife, Elizabeth (Rebecca Hall) — arguably the more brilliant of the two — tilts at the hidebound college administration. They were intrigued by the physiological manifestations of deception — the ways we lie and how it shows — and the couple came up with an early predecessor of the polygraph test that in the film is used for both dramatic and comedic effect. But Marston also had novel theories about human desire and destiny, how great existential safety could be found in being lovingly controlled and restrained.
The Marstons lived his theories in both their daily lives, with the arrival of a young student named Olive Byrne (Bella Heathcote), and in the pages of the comic books William wrote. Byrne is portrayed as initially dewy-eyed and prim; she turns out to have feminist birth-control pioneer Margaret Sanger for an aunt, and quite definite ideas about women's role in society.
The three enter into an unconventional but mostly happy long-term menage a trois that, about halfway through the feature, tentatively tiptoes around the edges of ropes-and-scarves territory. Upon finding out about this love trio, their neighbours are duly shocked and affronted, but the film successfully portrays the relationship as emotional, genuine, at times difficult to maintain, but ultimately quite happy. Some younger W.W. fans may have questioned their blushing parents to ask why this powerful heroine keeps getting tied up with ropes and chains, and the film addresses the subject head-on through its framing narrative, with Marston grilled by Josette Frank (Connie Britton), head of the Child Study Association of America, as various po-faced minions look on.
But while "Professor Marston" convinces us that Marston consciously used "Wonder Woman" to advance his ideas about gender and psychology — there's some rich comedy to be found between his high-minded approach and the low-down realities of the comic-book business. It's a shame though that Evans, a fine actor who excels in villainous and supporting roles, doesn't quite have the individuality to stamp Marston with the much larger-than-life persona he was alleged to have had. Also he's overshadowed somewhat by Heathcote and most definitely by the ever-brilliant Hall, whose Elizabeth Marston transforms over the years from a stiff-necked firebrand to an erotic author of her own desires, all while holding on to her feminism and her femininity.
J U S T I C E L E A G U E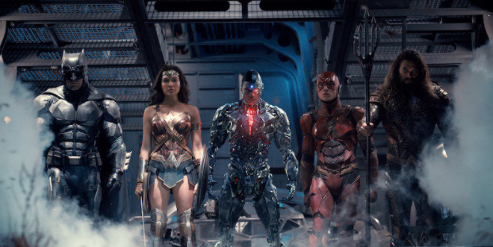 Cast: Ben Affleck, Henry Cavill, Amy Adams, Gal Gadot, Jason Momoa, Ray Fisher, Ezra Miller, J.K. Simmons, Amber Heard, Willem Dafoe, Jesse Eisenberg, Connie Nielsen, Robin Wright
Director: Zack Snyder
119 mins
Justice League, the latest cash creation scheme from Warner Bros. and DC Comics, is certainly less grim than its predecessor Batman v Superman: Dawn of Justice, which was as unwieldy as its title was ungainly. This latest manifestation of multiple super-heroes actually takes itself a great deal less seriously and actually attempts to make jokes. BVSDOJ, despite its promised tête-à-tête, was weighed down by an inordinate excess of extraneous flashbacks and clunky exposition. JL too, muddles through loads of flashbacks and tiresome exposition, but it still ought to have left fans and studio execs feeling more fulfilled. Instead, thanks to Batman v Superman's poor reception, reports of extensive reshoots, and the inexplicably continued employment of Ben Affleck as Batman, there's really only been one reason to look forward to this sequel: Wonder Woman (Gal Gadot), whose solo outing earlier this year was a thrilling, disarming treatment of its source material.
Buffy the Vampire Slayer creator and Avengers director Joss Whedon was hired to script-doctor the already completed film and then, after director Zack Snyder stepped back from the production amid personal difficulties, he took over as director of the reshoots. Although we don't quite know who oversaw what in Justice League, you can feel the two men's sensibilities gnawing at the other. Here is a world where Superman (Henry Cavill) has died, and an opening sequence tries to play things operatically, with lots of civilians shuffling in slow-motion misery. We even glimpse a newspaper front page containing pictures of Superman, Prince, and David Bowie with the headline, "DID THEY RETURN TO THEIR PLANET?" Sadly Justice League can't quite shake off the crudely philosophical, bulging-muscles melodramatic excess of the grossly overrated Snyder, and it's clear when the radically different approaches of he and Whedon collide in the same scene. This time out, Batman is tracking an invasion force of buglike "parademons" - new heroes with varying degrees of interest in joining the fray (Ray Fisher's Cyborg, Ezra Miller's the Flash, and Jason Momoa's Aquaman), and an under-explained, messy and badly conceived involvement with mysterious doomsday cubes and an ancient battle between gods, Amazons, Atlanteans, and men. These strands emerge far too rapidly yet elliptically, shrouding what is actually a very simple story. A "new god" named Steppenwolf (Ciarán Hinds) wants to turn the Earth into a hellish tribute to his fellow cosmic deities, but he needs the three "mother boxes" to do it, and that means it's time for pals Batman and Wonder Woman, to call in their new troops.
At that point, the League finally teams up and the film, at least in spurts, becomes quite enjoyable. Gadot's Wonder Woman is pushing others—like the tragic and reticent Cyborg—to accept their own super-responsibilities. Momoa plays Aquaman like a cowboy taking his third ride on a mechanical bull, and Miller's Flash is tremendous, playing the rapid one as a neurotic, inexperienced idiot who, when he meets Batman for the first time, tries to explain his costume with, "Oh, I do competitive ice dancing." Speaking of Batman, surely it's time to put him back in the belfry or wherever. He is devoid of any superpowers other than his ability as Bruce Wayne to trouser a ridiculously obscene wad and in this, on a whim, purchases a bank. He looks as tired as I am of seeing him – and frankly Affleck is beyond a joke in an outfit that resembles discarded material from a Remnant Kings dustbin. The less said about Steppenwolf the better. This is a baddie who has the countenance of a child's cartoon - of a prune, bellowing cardboard-villain lines such as "You will scream!" Then there is Snyder's signature action style, involving debris-flecked set pieces with lots of timeline ramping in which the exerted editing speed, added to the excess of 3D footage, becomes quite nauseating. This is, I presume, less we properly witness how rubbish these sequences actually are. Also - notes here for you DC - a great deal more than zippy repartee is required to make a superhero film feel thematically resonant. Regrettably this one, despite its Whedon-amended patches, is mostly a senses-assaulting mess, an offence to good taste as well as basic narrative cohesion. In one scene, Batman asks his butler Alfred (Jeremy Irons) where the team has just arrived, an island between Metropolis and Gotham that they discussed just one scene earlier. Later, Batman will radio Alfred from a location that the film has taken pains to identify as a communications dead zone. These plot holes are only the most obvious signs of the film's troubled origins, although they're rather small compared with the abyss that separates the whole film's divergent tones.
It should hopefully be clear by now to the brains behind the DC Extended Universe, that the pummelling, ponderous approach of Zack Snyder and the comic-book influences he mines—chiefly, the brooding '80s works of Frank Miller and Alan Moore—will no longer do. It certainly did nothing to help last year's Suicide Squad, the worst DC film of them all. While Wonder Woman entrusted the character to a director's original vision to great reward, Justice League is nowhere near that level of proficiency. With at least a dozen more of these films coming, perhaps next time Aquaman (2018), Wonder Woman (2019), and Cyborg (2020) return to save the universe, the whole process will have improved dramatically. That stated however, on a personal note, I'd happily welcome a full abandonment of these group get-togethers, as they dramatically dilute the power of the individual characters.