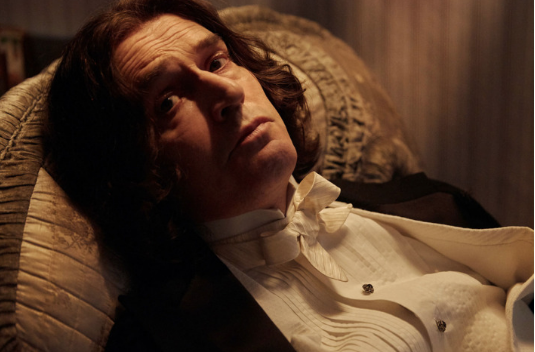 Cast: Rupert Everett, Colin Firth, Colin Morgan, Edwin Thomas, Emily Watson, Tom Wilkinson, Antonio Spagnuolo, Franca Abategiovanni, John Standing, Anna Chancellor, Beatrice Dalle
Writer/Director: Rupert Everett
105 mins
Rupert Everett's tale of Oscar Wilde's late-life demise The Happy Prince has, by the very nature of its narrative, a downward trajectory, but happily it is helped back into ascension by actor/writer/director Everett's outstanding performance. He has obviously spent some considerable time in the prostheticists' chair with the work on providing a hefty frame and facial features proving extremely impressive. The film itself offers fleeting flashbacks to a triumphant opening night, the infamous trial and his appallingly traumatic journey to prison, but The Happy Prince is set mainly in the period between Wilde's release in 1897 and his lingering death in 1900 from meningitis. Everett's script skips back and forth in time, opening with Wilde at perhaps his lowest ebb, skulking penniless through the streets of Paris en route to his decrepit hotel. Following recognition in the damp alleyways by a sympathetic, wealthy female admirer from whom he successfully scrounges a fiver, the woman's husband approaches Wilde and threatens to kill him should he ever speak to her again. Everett follows this encounter with a flashback to the very same husband laughing and applauding at the opening of his production 'The Importance of Being Earnest'. A potent and telling moment that is superbly achieved. The sequence conveying the moments before Wilde's collapse in a boisterous tavern while drunkenly warbling is equally powerful. Throughout his rapidly encroaching end, Wilde remains capable of supreme self-indulgence – but the main problem is the disgust of his contemporaries, particularly the upper class that he both satirised and was happy to belong to. His prison memoir, De Profundis, will not be published in his lifetime (and not published in its entirety until more than half a century on), and he can't summon the energy or desire to write another play or novel. After his true love Bosie (Colin Morgan) moves on and Wilde's finances vanish with him, he uses what little money he has left to hire young French men, and with one, a little brother befriends him – and this is where the film's title appears. "The Happy Prince" is a story he tells the pair about a prince and a bird and the promise of an afterlife in which all is healed.
The final scenes convey far-reaching effects. His other companion Robbie (Edwin Thomas) returns, despite his betrayal, along with Colin Firth as Wilde's devoted friend, the writer Reginald "Reggie" Turner. We get to hear Wilde's last reported great line: "I'm in mortal combat with this wallpaper. One of us has to go." Tom Wilkinson also has a few funny moments as the Irish priest hastily drafted to give Wilde his wished-for last rites. The Happy Prince is superb work from first-time director Everett and he proves with it that a film can be both bleak and warm-spirited, as befits such a wonderful subject.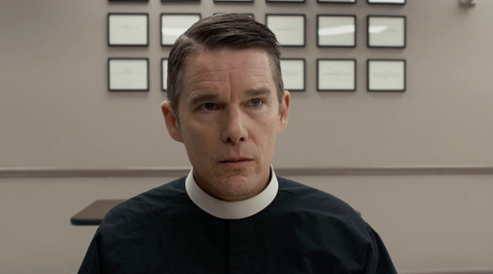 Cast: Ethan Hawke, Amanda Seyfried, Philip Ettinger, Cedric Antonio Kyles, Michael Gaston and Victoria Hill
Writer/Director: Paul Schrader
108 mins
The protagonist of First Reformed is Reverend Ernst Toller (Ethan Hawke), the sole pastor at a small Dutch Reformed church in upstate New York. This is a place locked in time and preserved, despite a sparse congregation, because of its historical significance as a stop along the underground railroad. Toller is a deeply troubled man, a former military chaplain whose son died in the invasion of Iraq and he is weighed down by guilt by having encouraged him to enlist. The boy's death also led to his wife leaving him. Toller secretly drinks, and is suffering from an undiagnosed stomach ailment, while pushing away the advances of his housekeeper (Victoria Hill), with whom he had apparently enjoyed an earlier relationship.
As a result, Toller's freedom of action is being increasingly resricted by Pastor Jeffers (Cedric Antonio Kyles, better known in America as Cedric the Entertainer), who runs a nearby, much larger church, that treats Toller's picturesque little establishment as a photogenic offshoot of a larger operation. Keeping things running smoothly is especially important given that Toller's church is on the cusp of celebrating the 250th anniversary of its foundation, an event that will attract a great deal of attention in the press. The celebration is, however, being funded by a questionable patron: Ed Balq (Michael Gaston), who runs a petroleum company that shows little concern for the impact of its operations on the environment. This fact is forcefully brought home to Toller when he is approached by Mary (Amanda Seyfried), who asks him to meet with her husband Michael (Philip Ettinger), an activist who is convinced that the earth is becoming uninhabitable and shows every indication of readying himself to go to violent extremes in protest. The pastor's embrace of Michael's cause—and, as it happens, concern for his wife—will draw him to consider radical action himself. The reverend records his experiences, thoughts and intentions in a journal - and the entries, read by Hawke, drive the story forward with an intensity in which the film grapples with the question of what a real embrace of the Gospel means - in terms of personal commitment and action, as well as the need for meaningful personal connection in a callous world. However the film is both deeply serious and unrestrained in its adoption of the elements of pulp melodrama. It goes nuts towards the ending, setting up a scenario that combines the potential for explosive terrorism with a longing for self-flagellation, and adding to that mix, a penchant for flamboyantly over-the-top imagery.
Schrader has always combined the sublime with the ridiculous, and he has been lucky enough to find collaborators willing to devote themselves to his very personal vision. This time around, his ally is Hawke, who delivers a performance that fully embodies Toller's angst and despair. The character is a study in extremes, but Hawke manages to endow him with real humanity as well. Seyfried and Ettinger contribute effective if subdued support, and while Gaston goes for obvious obnoxiousness, Kyles provides a spot-on depiction of a pragmatic clergyman. There's no question that First Reformed is short on plausibility and restraint, but its willingness to take risks garners respect, even when it goes off the rails.