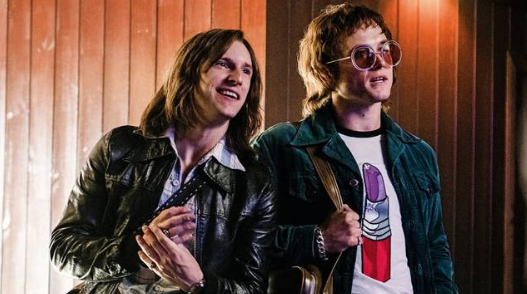 Cast: Taron Egerton, Jamie Bell, Richard Madden, Bryce Dallas Howard, Stephen Graham, Jason Pennycooke, Charlie Rowe Gemma Jones, Kit Connor
Director: Dexter Fletcher
121 mins.
Elton John's musical talent as well as the emotional frailties that nearly drove him over the edge in the 1970s, are on full show in Dexter Fletcher's fantasised biopic Rocketman. Unfortunately, the songs and the surface glitz, necessary as they are, are given precedence over many of the more important and potentially interesting insights into the inner workings of John's mind and heart. Therefore, despite the film attempting to be as flashy and ebullient as the man it celebrates, it falls disappointingly short of being a rounded portrait of a life and a career. Taron Egerton plunges headlong into the role of the protagonist in a film that is markedly more free-flowing and impressionistic than the also part-helmed by Fletcher Bohemian Rhapsody, with which it will inevitably be compared. But neither his vibrant performance nor his impressive vocals can compensate for the facile nature of a screenplay contrivingly designed to present John as a great survivor-hero who took the relatively smooth with the extremely rough, and lived to tell the tale.
Rocketman is a pastiche of dramatic moments and musical set -pieces, focussing primarily on the early period of Elton John's life. It dwells fleetingly on the formative influences and the early successes that paved the way forward for the mercurial musician. But more than being an intensely realistic character study, it is an exuberant, colourful tribute to a phenomenal music career that has weathered many storms, one of them leading to a near-catastrophic plunge into drug and alcoholic addiction, and which is the central conflict point of the film. Fletcher re-imagines most of the Elton John songs, which aren't played in a chronological order, and employs them for the purpose of delivering wannabe Bob Fosse-style set pieces, a few of which are agreeably rousing and entertaining. Somewhat inevitably, Rocketman ends on 'I'm Still Standing', with the song belted out by Egerton and then merging into the video that was shot decades ago in Cannes (alas not especially well-achieved). The preponderance of Elton John's outrageous costumes and the overt emphasis on the glittery outer packaging leaves a huge hole at the heart of the story and this is precisely where I have a problem with the whole enterprise. Elton John is/was a vulgar caricature of a singularly tedious individual in terms of visual appeal. A Billy Bunter character, and who, without the flamboyance, would ironically be more highly regarded as a musician - but who clearly craved the rock icon lifestyle. Hence the grotesque Liberacesque garmenting.
Egerton also has a problem in creating a believable characterisation when the subject matter himself is so vacuous to begin with – so it's an insurmountable struggle to accept him as Elton John and not Taron Egerton acting as him. The songs are strung together in a way that is meant to take this theme of a man fighting to assert his identity and channel his talent as the crux of the film, but it often gets lost in the din the film generates. It opens at the point where John has gone too far down the path of self-destruction and is in need of rehab. Attired in a flaming orange sequined robe and devil horns, he emerges out of a backlit door and strides up the corridor of the clinic. The swag is celebratory rather than indicative in any way of the troubles the star has brought upon himself. Cut to a de-addiction meeting. "I am Elton Hercules John," the protagonist intones, and wastes no time to confess to his many uncontrolled transgressions, rattling off a list of his addictions - alcohol, cocaine, weed, prescription drugs, bulimia, shopping. He then proceeds to enlighten the small gathering about the reasons behind his descent into this state.
Told through flashbacks, the story takes us back to his origins as a London piano prodigy, born Reginald Dwight, who had to contend with a cold, distant father (Steven Macintosh) and grapple with frequent emotional tussles with his mother (Bryce Dallas Howard), who, when she learns that her son is gay, nonchalantly warns him that he will never find real love. That prognosis haunts John, and impacts his relationships with his manager and lover John Reid (a terrific turn from Richard Madden), the woman that he was married to briefly, Renate Blauel (Celined Schoenmaker) and pretty much everyone else that he interacts with. The one equation that escapes the malign influence of the demons in his mind is the partnership he forges with Bernie Taupin (Jamie Bell), the writer of the lyrics that he set to music. The duo is one of the most successful combos the music industry has ever seen – and the film bangs on about the fact that the two men - Bernie, on more than one occasion tells Elton that he is a brother - have never had an argument over the 50 years that they have worked together. The placid John-Taupin partnership has yielded many successes over the decades. Sadly, the film itself does not quite translate into the same level of rewards.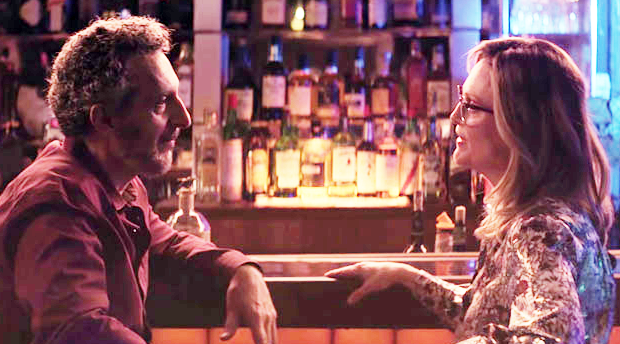 Cast: : Julianne Moore, John Turturro, Michael Cera, Brad Garrett, Holland Taylor, Sean Astin, Tyson Ritter, Caren Pistorius, Jeanne Tripplehorn
Director: Sebastián Lelio
102 mins
Chilean director Sebastián Lelio has re-written his 2013 film Gloria as a English-language remake as Gloria Bell. The titular protagonist (Julianne Moore) is a divorced, middle-aged woman who works in an insurance office and doesn't keep in touch too often with her grown children. In her home she has to tackle the constant volume of an hysterical screaming upstairs neighbour, plus a mysterious hairless cat that constantly finds ways in to her flat. For social activity she engages in drinking and dancing to 70s disco tracks at a nightclub, where on one particular visit she meets Arnold (John Turturro), and with the clear mutual attraction of two lonely souls, they easily slip into a sexual relationship.
Arnold runs a paintball guns theme park, is newly divorced and appears to be at the relentless beck and call of his grown daughters and ex-wife via constant phone calls. When Gloria takes him to meet her family at the birthday party of her son (Michael Cera), under severe small talk pressure, he suddenly ups and leaves, later claiming that Gloria wasn't paying enough attention to him. Following a stream of calls to her - which she ignores before finally relenting - in an attempt to make it up to her, he takes her to a fancy hotel in Las Vegas, but once again disappears when his phone rings.
With nothing left to lose, Gloria heads out into the night and into the arms of a stranger. The film takes a measured pace with a nuanced, perceptive look into the life of a character slightly passing middle age, and wondering if an ordinary woman who has already experienced marriage and raised children is still entitled to have another attempt at securing happiness. The pitfalls she faces are all viewed through the lens of later-life experience. Gloria is as bitterly familiar with a divorced man's baggage as she is unfamiliar with holding a paintball gun or handling a creepy hairless cat. She frequently adopts a pasted-on smile, perhaps believing that if she appears to be positive, she'll be more appealing to others – but the pain still manages to appear and as such offers a sophisticated, touching character study.