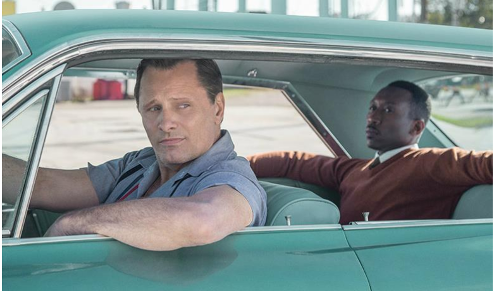 Cast: Viggo Mortensen, Mahershala Ali, Linda Cardellini, Sebastian Maniscalco, Dimiter D. Marinov

Director: Peter Farrelly

130 mins
New York, 1962. Temporarily laid-off nightclub bouncer Tony "Lip" Vallelonga desperately needs some decent income from a job, so he agrees to drive renowned classical pianist Don Shirley around the deep South on a six-week performance tour. It's never really clear if Don doesn't know how to drive or merely doesn't like to drive, but Don most certainly is a diva and what Don wants he gets, and also having some white muscle on the trip is probably a very good idea, for Don is a black man, and the 1960s American South is bad news. Tony has the handy knack of anticipating trouble, and it will all get a great deal worse than Tony could have imagined before their trip is over. They barely even leave New York when Tony, despite being less than the most progressive white man to be found in the 1960s, is nevertheless appalled to discover that they will need to refer to the so-called 'Green Book', a travel guide to the South for African-Americans, to help them find restaurants and motels that will welcome them. Or that will welcome Don, at least. Tony, being a belligerent Caucasian will be able to stay wherever he likes.
Green Book is yet another tale of American racism told primarily through the eyes of a white person discovering just how terrible racism can be, and discovering that black people are human and worthy of respect. But what snatches the film from condescending awfulness is the wit and the charm and the complexity with which both Don and Tony are drawn, and the quite superb performances by its co-stars. As Tony, Viggo Mortensen is all big, expansive movement and even bigger brashness, a man who wears his heart — warts and all — proudly on his sleeve, just don't ask him to actually talk about his feelings too much. Mortensen captures to perfection the working-class Bronx Italian attitudes, postures, and accent. As Don, Mahershala Ali is all tiny, precise actions, carefully chosen words, and a deep emotional reserve. The slow thaw that Ali allows Don is a joy to watch, as he moves from disdain and despair at Tony's crudeness to reluctant acceptance and eventually a true connection. Don is intellectual; Tony is visceral. Don is still while Tony is quite the opposite. Tony is gusto, Don is elegance. They truly are an odd couple, and the hard-won common ground they find over the course of their trip is as much about personality as it is about race. For while Tony gets his consciousness expanded a little as he learns what the world is like for a man like Don because of the colour of his skin, both men learn about each other, and their very distinct methods of approaching life, in ways that go well beyond that. Don's experience of racism also comes with another uncomfortable angle - if being true to himself means playing the classical music of white composers, and moving easily in upscale-white society, does that make him not "black enough" in a culture that is uneasy, from both sides, with crossing such boundaries? So the film's exploration of the pain and the dehumanisation that racism causes comes with some extra nuance.
Based upon a true story, and along with Farrelly and Brian Hayes Currie, the script is by the real Tony's son, Nick Vallelonga, who has long been an actor and screenwriter. The period authenticity that Farrelly hews to is terrific as the film opens with Tony working as a bouncer at the Copacabana nightclub, and I fully expected to see Henry Hill on his fancy date with Karen in the background. Green Book's tune may be familiar, but it is performed with such virtuoso style and panache.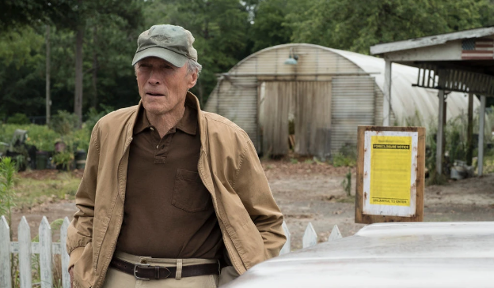 Clint Eastwood, Bradley Cooper, Taissa Farmiga, Michael Pena, Laurence Fishburne, Dianne West
Produced and Directed by Clint Eastwood
116 mins
Clint Eastwood's The Mule is the director/actor's latest film, layered with emotional complexity that makes for a sturdy old-fashioned drama about a man and his mistakes. Eastwood, of course, sprinkles on his usual unfiltered social commentary, while the bulk of the script focuses on the journey, the casualties and the eventual outcome of living a selfish life. Earl Stone (Clint Eastwood) is a 90 year-old horticulturist who apparently cares a great deal more about his flowers and awards than of his family. He's divorced, and although most of his family hates him, he doesn't really seem to mind. That is until a crisis emerges which causes him to reassess the value of loved ones and take a deep hard look at time and how much it means to the human condition. It's not long before Earl finds himself delivering drugs for a Mexican cartel, based on his perfect driving record and off the fact that he's financially on his uppers. He urgently required some cash to go towards the cost of his granddaughters wedding – as she is the only family member who wants to interact with him. Earl sees this opportunity as a means to continue fuelling his hard-headed ego, but it slowly warps into a reflection of his own legacy and self-worth – and the more money he accumulates, the more time he seems to want to spend with his loved ones. The film wisely balances the self-fulfilment with self-righteousness as Earl learns the value of time and the importance of effort — effort not in direct correlation with pass or fail, but with trying or not trying. At one point in the film, Eastwood's character mentions how he has failed as a father, while his daughter says that he was simply a late-bloomer. This is poetic, because it obviously ties together Earl's love for flowers and their own unique individuality, but also with the fact that it's never too late to stop being a real father. His family never cared if he was the best father, but only that he was an actual parent who actively wanted to be a part of their lives. The film offers a lovely performance from Eastwood, who is far more appealing when he embraces his emotional insecurities and gives audiences a glance at his more vulnerable side.
As a director, Eastwood shoots the feature steadily, focusing on his character's family dynamics above all else, but occasionally giving us a look at Bradley Cooper's DEA Agent Colin Bates who certainly isn't the focus of the film and is only a secondary character at best. The film's arc and cinematic passing of the torch involves both Eastwood and Cooper, but I'd argue that it's more about Eastwood realising that his time is coming to a close and that Cooper has more than earned his trust and honour over the years, working together on American Sniper and at one point, Cooper apparently pitched A Star is Born to Eastwood to direct. For some, The Mule may be regarded as minor-Eastwood, in that it relies more on drama and thematic storytelling than action or inventiveness, but although the film is structured in a way that's predictable and safe — I wouldn't describe it as slow, but I can see that complaint coming. However, for others, The Mule's conventional approach only solidifies the base of a film that Eastwood pours his heart and soul into.
The performances are all top-notch, requiring a sense of humanity as some of the drug smugglers that Eastwood's character deals with begin to break their stereotype of tough-guy thugs as they attempt to help Earl learn how to text — The Mule is a film full of little moments that may appear to be minor, but only add to the likability of the film's simplistic intentions that somehow manage to reflect on a lifetime of bad decisions and mistakes. Eastwood is more on top of his game now than ever been before, providing us with occasional moments of unfiltered Eastwood, which gives fans those politically incorrect sequences and jokes that we all expect, yet he embodies the role of a man absolutely out of time and out of breath, initially struggling to admit his own mistakes, but slowly apologising and appreciating the life that he has been given and the family that he has mostly ignored. This is a powerhouse film that no-doubt represents the end of an era and the end of a career - but Eastwood could stop directing/acting tomorrow because The Mule is a stellar example of Eastwood's agility and magnitude as a first-class filmmaker unmoved by age or time.