Indiana Jones
and The Dial of Destiny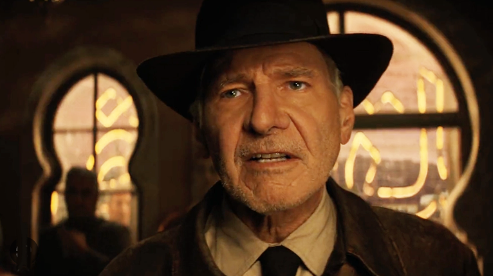 Cast: Harrison Ford, Mads Mikkelsen, Phoebe Waller-Bridge,
Toby Jones, Antonio Banderas, John Rhys-Davies
Director: James Mangold
154 mins
"This is not an adventure, those days have come and gone", a retired Indy says to his old friend Sallah (Welsh actor John Rhys-Davies) when the latter expresses the desire to accompany the archaeologist to Tangier in search of one half of a priceless relic known as the dial of destiny. Professor Henry 'Indiana' Jones is spot-on. Those days have most certainly come and gone. Indiana Jones and the Dial of Destiny makes a hardy attempt to recapture the magic and excitement of the first four films of the hugely successful series helmed by Steven Spielberg – but it only succeeds in part. With Spielberg off the saddle, the ride is wildly erratic. This James Mangold-directed exercise is neither a cinematic experience that transports you back to the heydays of Indiana Jones nor a vehicle brimming with the sort of entertainment that can paper over the many glaring shortcomings. The makers of the film however aren't going to stop trying and this becomes evident in a protracted prelude that plays out in the last year of World War 2.
An exceptionally well-developed and hugely impressive AI treatment shows that a totally convincing much 'younger' Indy has been captured and is about to be executed by Nazi officers who seem blissfully oblivious to the fact that the war has ended, with Berlin in a shambles and Hitler in hiding. Jones makes a dash for freedom with his pal Basil Shaw (Toby Jones), riding on a rampaging train with a horde of baying Nazis in hot pursuit. A surfeit of sporadically thrilling action marks the opening before the film seeks to offer up more of the same as it cuts to New York (aka Glasgow) in 1969, the year of the first moon landing. In his search for the dial of destiny and in the fight to keep the baddies at bay, Indiana Jones looks for a solid landing but alas never finds one. Indiana Jones and the Dial of Destiny, which has Indy, his godchild Helena Shaw (Phoebe Waller-Bridge) and the former Nazis, led by the cold and clinical Jurgen Voller (Mads Mikkelsen), is in a race for a third century artefact - a cocktail of myths and mathematics that doesn't quite equate. Archimedes, who is frequently mentioned as a mathematician and engineer of unparalleled genius, shows up as a significant part of the story when the characters travel across time - because yes indeed, the film has that too, but the humour and the surrealistic flourish in the climax are unfortunately submerged by an excess of spectacle and stunts.
In a scene inside a cave that hides a few nasty surprises, Helena says to Indy, "You are not moving." The hero says: "I'm thinking." Indy gets emotional - his marriage is ending and a tragic personal loss haunts him - but the quieter moments in Jez Butterworth, John-Henry Butterworth and David Koepp's script don't quite convey what's needed here. In addition, the pauses between the action set pieces and the frenetic chases on horseback through the New York subway, in a boat in Spain, on aeroplanes and even on a three-wheeled seated bike in Tangier – are sadly few and far between and don't generate the essential breathing spaces the film could have done with. Coming a decade and a half after the previous instalment (Indiana Jones and the Kingdom of the Cystal Skull, 2008), Indiana Jones and the Dial of Destiny, in terms of substance, continues from where it left off. Eighty-year-old Harrison Ford makes a spry hero in his final bow as the intrepid, globe-trotting archaeologist, but the material he is expected to breathe life into doesn't possess the necessary energy. New cast members Phoebe Waller-Bridge, Antonio Banderas (in a cameo that ends all too abruptly), Toby Jones and Mads Mikkelsen, among others, do add some lustre to the film, but really, it's all too superficial. Harrison Ford is assuredly a Hollywood star in the old mould and his charisma is still strong enough to propel this vehicle, but any fans looking for more than just sensory and visceral delights will find Indiana Jones and the Dial of Destiny disappointingly lacking – meaning that Indy's swan song is devoid of the power that would have made the film a befitting send-off to a greatly-loved fictional figure. It isn't all doom and disaster, but it is dispiritingly dull.
MISSION IMPOSSIBLE:
DEAD RECKONING Part One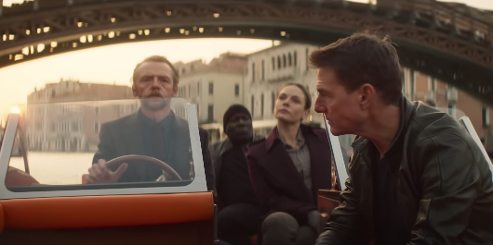 Cast: Tom Cruise, Hayley Atwell, Ving Rhames, Simon Pegg, Rebecca Ferguson, Vanessa Kirby, Henry Czerny, Esai Morales
Director: Christopher McQuarrie
163 mins.
Mission Impossible: Dead Reckoning Part One is the seventh film in this popular franchise that started back in 1996. The audience knows exactly what they'll be getting - there will be lots of action with huge set pieces in many international locations. There will be someone in life-threatening danger and inevitably the fate of the world will hang in the balance. There will be multiple characters taking off latex masks to reveal a completely different character underneath - and of course, there will be Tom Cruise, as spy extraordinaire Ethan Hunt, running as fast as he can, jumping off cliffs and ultimately saving the day after surviving many close calls.
Thankfully, Dead Reckoning Part One is not just the Tom Cruise show; it's also a story about friendship and the lengths the team will go to save each other. That team includes Luther (Ving Rhames), Benji (Simon Pegg), Ilsa (Rebecca Ferguson), and new addition Grace (Hayley Atwell), a pickpocket and thief for hire. This time, the MacGuffin they're pursuing is an actual key, one that can unlock the secret powers of a nefarious and powerful Artificial Intelligence entity. While the key is a rather sly joke on the plots of such big action movies, the introduction of A.I. takes Dead Reckoning Part One almost into The Matrix territory. This A.I. is known as "the entity"—which immediately recalls The Matrix's "Oracle"—and it's an all-seeing computer system that predicts the future. However, as a villain it's not fully formed, which makes caring about the stakes quite a considerable uphill climb.
Christopher McQuarrie—who has directed every Mission: Impossible film since 2015's Rogue Nation— keeps raising the action levels in Dead Reckoning Part One. From a cat-and-mouse sequence at a busy airport, to a long car chase through Rome to a grand finale aboard a runaway train, each action scene tops the one before it. Additionally, there are always at least two parallel stories happening during each of these action sequences. As a result, the tension rarely drops and the quick cuts from one suspenseful event to the other does its best to maintain the rhythm as tightly and as engaging as possible. While the action keeps the film humming along, the scenes in between the big set pieces though, are extremely lacklustre, full of banal and poorly inserted plot expositions and ponderous dialogue about the end of the world. Even when the film returns to its theme of friendship, it does it so seriously that it really stops the flow. It's maybe asking too much when in the previous scene every vehicle in Rome was destroyed by our heroes without a care in the world. The screenplay, credited to McQuarrie and Erik Jendresen, should have kept things much lighter, although the actors compensate as best they can to keep it moving. Atwell makes a fine addition to the film's core cast with her banter alongside Cruise peppered with wily amusement. She's not intimidated by him and matches his manoeuvres beat for beat – especially when the action moves to the long car chase. Vanessa Kirby returns as the White Widow and single-handedly adds a big jolt to the flick. She has to play two characters—those pesky masks again—and ramp up the dramatic tension. She drolly conveys the easy charm of her character, yet she's also totally believable as someone in peril, adding real gravitas to a film where the action is more or less cartoonish. Rhames and Pegg remain the perfect comedic foils to Cruise as they guide him through the numerous action sequences. Esai Morales appears as the enforcer for "the A.I. entity'' and brings such simmering malevolence to the character that he ought to have been the villain. But Cruise, of course, is the main attraction. He carries the film with aplomb and invests the action with enough familiarity from the previous six outings that core fans will be more than delighted. I just felt that the ludicrous set pieces when from wherever his latest peril offers a highly complex escape route, his chums somehow know precisely where to be, no matter how preposterous the circumstances and location, to complete the rescue. The team's unwavering access, with outlandish ease and speed, to mountains of futuristic technology whenever a need arises, plus no mention of how they finance or source these items nor the subsequent extreme escapades is ever addressed - so a heavy and much-needed injection of reality would not go amiss, despite the deliciously entertaining ongoing nonsense these films offer up.