Starring: Lesley Manville, Isabelle Huppert, Jason Isaacs, Anna Chancellor, Lambert Wilson, Alba Baptista, Lucas Bravo, Rose Williams
Director: Anthony Fabian
115 mins
With a delightful performance from Lesley Manville as the titular character, Mrs. Harris Goes to Paris manages to outshine even its effervescent lead to produce a heart-warming and emotionally rewarding drama. The film relates the tale of recently widowed Ada Harris, who, after becoming entranced by a couture Dior dress, embarks on a quest to purchase one of her own. Suddenly, through a series of fortunate and financially rewarding events, Mrs. Harris finds herself on an adventure in Paris that will resonate throughout both her own life and the House of Dior itself. The heart and soul of the film rests on the capable shoulders of Manville, who delivers a tour de force performance as the title character. She is easily the aspect that draws the viewer into the film and thereafter keeps us enthralled by the events swirling and unfolding around this extremely likeable cleaning lady. Similarly, Isabelle Huppert also shines as Claudine Colbert, the first line of defence at the House of Dior and, consequently, Mrs. Harris's nemesis (of sorts) for most of the film.
Also of note are splendid performances courtesy of Lamber Wilson as the Marquis de Chassagne – a potential receptor for Ada's affections; as well as the pairing of Natasha and André, played by Alba Baptista and Lucas Bravo respectively – who function as the surrogate couple to which Ada also serves as matchmaker. Director Anthony Fabian does a fine job in keeping the film moving along as though the audience were on the same whirlwind adventure as Mrs. Harris. This too is accentuated in the script by Fabian, Carroll Cartwright, Keith Thompson, and Olivia Hetreed that deftly translates Paul Gallico's novel to the screen. The pacing and dramatic highs and lows hit all the proper notes and results in a hugely entertaining tale of one woman finding the courage to continue to search for the beauty and good in life, despite the bad times that befall her. Although the crux of the film is the likability of Manville as Mrs. Harris, the look and pacing of the film, provided by cinematographer Felix Wiedemann and editor Barney Pilling are invaluable in bringing together this ensemble piece into such a cohesive and enjoyable package. Similarly, the mise en scène of the film courtesy of Luciana Arrighi's production design, Nóra Talmaier's set decoration, and the costumes designed by Jenny Beavan, all echo the sort of whimsical adventure that has come to Mrs. Harris, despite its ominous beginnings. Exquisitely charming and effortlessly held together by a delightful performance from Lesley Manville, Mrs. Harris Goes to Paris proves to be an uplifting and thoroughly entertaining film that even the most ardent of curmudgeons will enjoy.
THE BANSHEES OF INISHERIN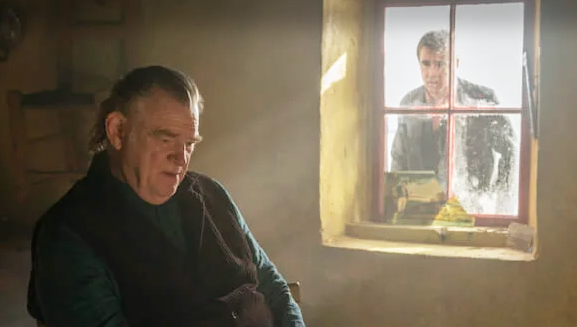 Cast: Colin Farrell, Brendan Gleeson, Barry Keoghan, Kerry Condon
Writer/Director: Martin McDonagh
113 mins
The end of a relationship is rarely smooth sailing, particularly when the decision is one made unilaterally. In 1923, on the remote, fictional Irish island of Inisherin, Pádraic Súilleabháin (Colin Farrell) discovers this for himself when his best friend Colm (Brendan Gleeson) declares he no longer wants to associate with him, seemingly without reason. Pádraic is understandably confused, then angry, then sad, unable to comprehend Colm's sudden change of heart. He attempts to reason with him, much to the chagrin of his sister Siobhán (Kerry Condon) who would rather Pádraic just tend to his animals instead. Not content to spend his future hanging about with Jenny the Miniature Donkey and Dominic (Barry Keoghan), the lecherous son of the local constable, Pádraic continues to badger Colm. "I just don't like ye no more," Colm says bluntly, before vowing to cut off a finger on his fiddle-playing hand for every day that Pádraic continues to speak to him. These stakes may seem slightly lower than those of Martin McDonagh's prior stage and screen work, which has focused on assassins, dognappers, racist cops, suicide and rape-murder, but The Banshees of Inisherin certainly features his signature acerbic wit and acute observation of the intricacies of friendship. Re-teaming with Colin Farrell and Brendan Gleeson – one of the all-time great on-screen pairings – McDonagh has crafted an intimate study of small-town dynamics and the bittersweet twilight of a long friendship, more focused than his critically-acclaimed Three Billboards Outside Ebbing Missouri, and as his first film set in Ireland, it serves as an affectionate but melancholy folk-tale about rural life and social pleasantries. In a year that has seen Farrell deliver several great performances, it's McDonagh who provides his most expansive and entertaining role – Pádraic is an affable, simple chap, who likes a chat and a pint, and can't fathom Colm's sudden change of heart. An expressive performer, Farrell is able to communicate hugely with just a movement of his not insubstantial eyebrows, or the brown-beaten way he walks along a country path. The sibling relationship between Pádraic and Siobhán is a sweet contrast between Pádraic and Colm's antagonism, even as Siobhán considers leaving Inisherin, for not dissimilar reasons to those Colm has for not wishing to be friends with Pádraic anymore. Barry Keoghan, as always, is a sparky agent of chaos, though tragedy lurks beneath Dominic's chipper, occasionally pestering exterior. Certainly it couldn't be a McDonagh film without some darkness, which exists in the form of the menacing island copper Peadar Kearney (Gary Lydon) and the ominous prophecies of the ghostly witch-like Mrs. McCormick (Sheila Flitton). On the mainland, as war rages between the Irish Free State and the Anti-Treaty IRA – Inisherin sits at a comfortable distance, observing the fighting with mild interest, but the squabbles of the town's locals aren't so different. The promise of a better life might only seem to be a short boat ride away, but there's something in the familiarity of Inisherin that Pádraic clings to. Colm's termination of their friendship disrupts his understanding of his own world order of things.
Colm's existential gloom is reflected in Ben Davis' austere but breathtaking cinematography, reflecting the rugged beauty of Inishmore and Achill Island where the film was shot, while Carter Burwell teams up with McDonagh again for a score that evokes the mighty In Bruges, but with a Celtic influence, underscored by Colm's obsession with composing a new piece of music, now that he's no longer bogged down by Pádraic's friendship. The film's delicate blend of wryly observed humanity and thoughtful, understated visuals mean that the more dramatic beats hit even harder. Even the occasional moments of gore feel shocking for the sparsity with which McDonagh chooses to deploy them. It might be a smaller-scale film than his last two Hollywood projects, but The Banshees of Inisherin is a testament to McDonagh's masterful gift for dialogue and the infinitely watchable chemistry between Farrell and Gleeson. It also speaks to the terrifying thought we've all had at one point or another: what if our friends secretly think we're dreadful dullards and only hang around out of pity? At least for Pádraic, he has a very charismatic miniature donkey to comfort him, but this moving, extremely sad story of failure to communicate makes for one of the finest films of recent years.