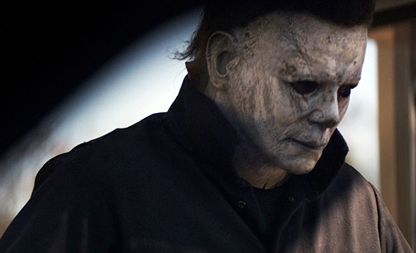 Cast: Jamie Lee Curtis, Judy Greer, Andi Matichak, Will Patton, Nick Castle
Director: David Gordon Green
109 mins
The masked mute maniac Michael Myers is back - and 40 years after her original role of Laurie Strode (and 16 years after the Strode character was killed off), Jamie Lee Curtis returns to the role to exact some much needed revenge. Halloween 2018 embraces the concepts of trauma, victim, and survival four decades after the events of 31 October 1978, as Myers, the emotionless killer who stalked and murdered teenage babysitters in the town of Haddonfield, Illinois, is now locked away in Smith's Grove Sanitarium. In his incarcerated state, Michael rarely moves, never talks or shows anything resembling emotion. But he waits — for the time to strike again, on Halloween Eve (but of course) as he is being transferred to a more heavily guarded prison in a facility van (from which, of course, he escapes). The jungle drums of his removal have alerted Laurie Strode who has spent the last 40 years getting over the trauma of being attacked by this faceless, nameless, emotionless shape in a tattered white mask on Halloween night. She has always known the day would finally arrive when Michael would come for her again. In advance of this inevitability she has prepared - and in the process damaged her relationships with her daughter, Karen (Judy Greer), and granddaughter, Allyson (Andi Matichak). The first and foremost aspect of this latest Halloween that should be mentioned is the wise decision by the filmmakers to avoid direct sequelitis by taking this new film back to the randomness of Michael's attacks - returning to John Carpenter's original 'The Shape' imagery of Myers' chilling resemblance of a shark moving and hunting with little in the way of explanation or purpose. Director David Gordon Green and his cast do a fine job in rebuilding the mystery surrounding the killer. It's also an important factor in the overarching narrative that attackers do so at random, and their victims are merely left with the question of 'why?'
In this new Halloween there are familiar similarities to the original film. Michael escapes. He travels to Haddonfield picking up his classic outfit of mechanic's overalls and the famed, white mask. He begins causing havoc on the streets and in the houses of the small town still very much trying to cope with the trauma of 40 years earlier. In that regard, Laurie is stronger and more prepared than the rest of the town. The violence is brutal and the screenwriters do a superb job juxtaposing it all with some much-needed levity. The character of Laurie Strode has evolved well with this new film, and Jamie Lee Curtis meets that evolution with a fine performance. It's little surprise that Curtis chose to return to the role given how much she has changed – now playing more of a fierce survivalist who holes herself up in a heavily guarded compound lying in wait for an attack that is sure to come. With raw intensity and brutal, genre elements, Halloween sits comfortably as a spot-on retro-fitting of these characters and events. It's a film that should please enthusiasts of the genre and the series without the blatant fan service that typically comes with them.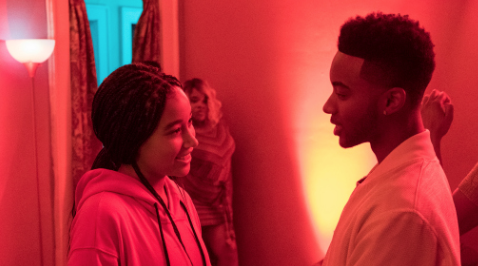 Cast:
Amandla Stenberg, Regina Hall, Russell Hornsby, KJ Apa, Anthony Mackie, Sabrina Carpenter, Common, Issa Rae, Lamar Johnson, Dominique Fishback, Algee Smith
Director: George Tillman Jr.
132 mins
George Tillman Jr.'s The Hate U Give is, in terms of its social and emotional power, an essential document for contemporary urban American – and indeed beyond. Based on a novel by Angie Thomas, it has a softer edge than for example Kathryn Bigelow's Detroit – a happy ending of sorts is even provided -and in terms of aiming for a broader audience, there's a decent possibility it may actually reach one. 16-year old Starr (Amandla Stenberg) lives in a tough, black neighbourhood and commutes, along with her brother Seven (Lamar Johnson), to an predominantly white school. While she can be herself at home and in her local area, she has to remove that image entirely for school. Even though the white kids speak in black slang, she herself doesn't use it around them. She calls this, respectively, her "Starr Version One" and "Version Two.") One night at a friends' party, she runs into her childhood friend Khalil (Algee Smith), and when he drives her home, they are pulled over by the Police. A reluctant and recalcitrant Khalil reaches into the car for a hairbrush and is promptly shot dead by the white cop. Starr realises that she can come forward as a witness, but that would brutally compromise her carefully-honed identity.
THUG's themes and characters are exactingly worked out with the screenplay written mainly by Audrey Wells, who sadly passed away from cancer shortly before the film's release. Russell Hornsby plays the bold, loving father, Maverick, who starts things off with "The Talk," explaining what to do if and when his children are ever pulled over by white cops. Common plays Starr's uncle, who, ironically, is a police officer, and who views the dilemma from a different, equally complex perspective. And K.J. Apa plays Starr's white boyfriend Chris, who, rather than being a clueless muppet, actually has his own view of things and is eager to listen and learn. Regina Hall is delightful as Starr's mother, and is the source of many moments of life and love amongst the family members. Anthony Mackie plays the scowling drug lord King, permanently driving around and giving snarling, threatening looks. Hopefully the film will be seen by an army of young people who will take something away from it, perhaps a new kind of respect and understanding of the racial divide in the USA. The shame is that the people who most need to see it, mostly the followers of a certain orange-skinned aberration in the appropriately-named White House will not, and would never see it, as if ignorance were a badge of honour.