THREE BILLBOARDS OUTSIDE OF EBBING MISSOURI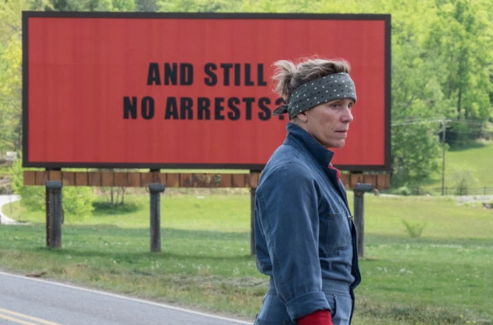 Cast: Frances McDormand, Sam Rockwell, Woody Harrelson, Peter Dinklage, John Hawke
Written and Directed by Martin McDonagh
1hr 55mins
Three Billboards Outside Ebbing, Missouri is a searing, dark comedy tearing into unaccountable racist, homophobic police, the impotent rage of the wronged, the small-mindedness of small towns and the redemption of the seemingly irredeemable and starring a slew of America's greatest character actors, it's one of the finest pictures of the year. It veers from explosive laughs and blasts of violence to the sullen silence of life-consuming grief. The dialogue tickles and scalds, the action surprises. And, no shocks here, it was written and directed by the brilliant, brittle Irishman Martin "In Bruges/Seven Psychopaths" McDonagh.
The Oscar-winning Frances McDormand is Mildred Hays, an Ebbing, Missouri divorcee utterly deflated by grief. Then she notices those three, long-abandoned billboards on the little-used road home. She has a purpose. She has an outlet. And before Red Welby (Caleb Landry Jones), who owns them, can find a reason otherwise, she's rented those three billboards — questioning why no progress has been made in the police case about her daughter's rape and murder. Officer Dixon (Sam Rockwell, brilliant) is furious. And Chief Willoughby (Woody Harrelson) is dismayed. Mildred wants results. The town, subjected to embarrassing regional TV coverage, wants her to stop - and that's when her chess game of publicity and public shaming turns into war. Cops here, she complains, are too busy "eating Krispy Kremes" and "torturing black folks" to find a killer, which brings back her brutish ex-husband (John Hawke), elicits the worst in her dentist, the condemnation of the local priest and prompts the pleas of her son to stop amidst a rising tide of threats and counter-moves by the police. Every criticism and threat brings another odd ally to her side — ad agency Red, the town midget (Peter Dinklage), black co-workers and billboard posters.
It's a less showy film than McDonagh's previous work, but there's beauty in the Ozarks foothills, in the sideways glances Mildred aims at one and all, at the self-aware irritation reflected in her eyes in her station wagon's rear view mirror. McDonagh also makes sure he gets in his shots at the Catholic Church - blended with story arcs laced with Biblical shots at redemption. Even the irredeemable have inner resources that might be tapped, souls worth saving. McDormand stuns at every turn, never letting us feel a false moment as a vengeful woman with a deep well of compassion, a guilt-ridden parent looking for closure. Her ethos is the anchor of a great character in a film filled with them, the beating heart of one of the best films you'll ever see.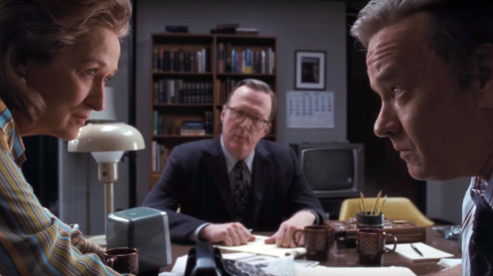 Cast: Meryl Streep, Tom Hanks, Bob Odenkirk, Tracy Letts, Alison Brie, Bruce Greenwood, Michael Stuhlbarg, Carrie Coon
Directed by Steven Spielberg
116 mins
Spielberg was possibly watching the Trump administration reject the media's demonstrably true facts in favour of so-called "alternative facts" prompted by the US President's pathological need to be venerated, when he read Liz Hannah's screenplay, ordered a revision by Josh Singer (Oscar-winner for Spotlight), and enlisted Hanks and Streep for this press-related outing. Set in 1971, The Post centres on Washington Post publisher Katharine Graham (Streep), who has to make the final decision on whether to publish sections of what became known as the Pentagon Papers — decades worth of internal communications about the Vietnam War that were stolen and copied by military analyst Daniel Ellsberg (Matthew Rhys). Presidents Kennedy and Johnson's secretary of Defence, Robert McNamara (Bruce Greenwood), knew as early as 1965 that the war was unwinnable, but kept sending troops to South East Asia to kill and be killed. The New York Times has already published some of the papers much to the frustration of Post editor Ben Bradlee (Hanks), but the Nixon administration, claiming national security, has stopped the Times' publication, offering the Post a chance to proceed in the name of a free press.
Objectively the events of The Post shouldn't really make for much of a nail-biter, but the suspense was in Ellsberg's agonising decision to steal the papers and the way in which he did it, a little at a time to escape scrutiny - and it was in the Times' brave decision to publish and the massive secrecy that surrounded the day's front page. Telling the Pentagon Papers story from the vantage of the Washington Post was not unlike telling the Watergate story from the vantage of the New York Times. However there is more than enough drama here for the bystanders and The Post is a good enough procedural to keep cinemagoers hooked. The core story, the one that inspired Hannah, isn't Ellsberg or even Bradlee, but Graham, a high-society woman who has never had much contact with hard-charging, chain-smoking, ink-stained hacks like her Post staff. Graham took over as publisher from her husband, who had committed suicide, and much is made of her customary deference to an all-male board (old, white, and pasty-faced). In fact, she has far closer personal ties to the CIA, the Pentagon, and other branches of government run by the Beltway elite. She's tight with McNamara and his family, so exposing him to further ugly scrutiny is very awkward indeed. The Post has the good fortune of coming out at a time when we're primed for more stories of women taking the difficult path. Mrs. Graham was not, by and large, a believer in spilling government secrets. In a 1988 address to the CIA, she said, "There are some things the general public does not need to know and shouldn't … I believe democracy flourishes when the government can take legitimate steps to keep its secrets and when the press can decide whether to print what it knows."
Spielberg uses few of his signature tracking shots around Streep, and sees no need to ride in on her face the way he usually does when people gaze on imminent peril or effects to be generated later. Not unlike Daniel Day-Lewis in Lincoln, Streep holds our gaze by underplaying. Her Mrs. Graham speaks in a light, airy voice with the faintest hint of the South. I can't recall it rising above a murmur, even when Graham's board begins to patronise her and she needs to carve out space to hear her own thoughts, and it's good to see Streep and Hanks work together, locked into each other's fields of gravity. Good actors keep their heads down and do fine, unshowy work, especially Bob Odenkirk as Ben Bagdikian, who has a tense, funny scene pouring coins into an pay phone in his quest to find Ellsberg, and Jesse Plemons as the disconcertingly young Post lawyer who reflects the weight of Nixon's world in his face. We also see shots of Nixon in silhouette in the window of the Oval Office railing on the phone at his subordinates. His words are vulgar and you would imagine too outlandish to be credible - but in fact they are straight from the Nixon tapes using Nixon's voice.