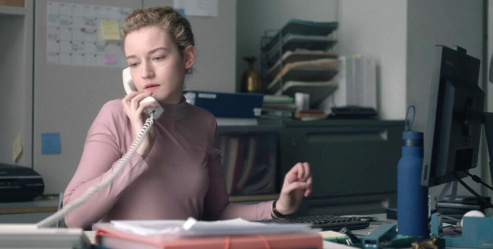 Cast: Julia Garner, Matthew Macfadyen, Alexander Chaplin, Makenzie Leigh, Bregje Heinen
Writer/Director: Kitty Green
87 mins
The Assistant is the ultimate reflection of current times, where the implication of sexual harassment is at its highest alert. In it, Writer/Director Kitty Green delves into the tattered psyche of a young woman destined (or so she hopes) for career successs, but gets caught up in a sordid web of sexual disillusionment in the dark shadows of a film producer's circles. The methodical truth of her film is unassumingly brilliant in its low-key observations about the false entitlement of unwanted sexual advances at the expense of enterprising young women simply trying to make their way in the world. Green's feature is not flashy or glitzy in its storytelling but it is still powerful and penetrating in its cautionary message about male predators and the unsuspecting prey they believe are there to satisfy their odious, carnal whims. The slow pacing may be deliberate, but ultimately The Assistant provides a blistering slow burn that registers effectively, courtesy of a measured and vulnerable performance by Julia Garner as Jane - the cornered soul bearing witness to the inexcusable, nerve-racking attentiveness these unctuous bigwigs pay to the targeted women they chase. Tense and intriguing, the film has a surfacing rawness that weighs on the consciousness.
Jane goes through the tedious motions of performing menial office tasks in the Manhattan-based venue for her boss. These routine chores consist of making coffee, cleaning and organising, handling problematic phone calls (including those from her boss' all-too-aware wife), re-stocking items, scheduling appointments, etc. Not exactly an exciting or particularly insightful introduction to the world of film producing. Despite this, Jane goes about her business in dutiful fashion, despite the abject drudgery of it all. Everyone keeps their head down, and the chatter in the office is kept to a minimum for fear that some of the important, big-time magnates may overhear something that could jeopardise their jobs. Jane manages to engage in some light conversation with a couple of male office mates but for the most part the other employees stay away from her, perceiving her as merely an insignificant junior assistant.
A conveyor belt of young, attractive women seems to be going in and out of the boss' office and this unseen character even books a hotel room for a beautiful new employee, Makenzie Leigh, under the guise of a meet and greet for employment consideration. Worse is to come, as when his odious behaviour is brought to the attention of human resources director Wilcock – an outstanding performance from Matthew Macfadyen - and the issue isn't handled in nearly the way Jane, nor any decent person would expect. The very thought of men using their clout to take lascivious liberties and sexually demoralise women as reassurance to a bright and rewarding future in show business (or any industry for that matter) is unspeakably grim and grotesque. The Assistant is impressively potent without the overstated exclamation of acrimony. This low-maintenance character study of perverted privilege is quite traumatic in its truthful depiction of the Harvey Weinstein and Roger Ailes prototypes that exist to cause such immoral recklessness. Hopefully it will persuade more Janes, the epitome of innocence and determination, and those like her to continue to expose this ongoing indecency.