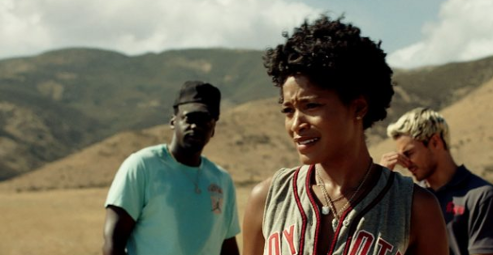 Cast: Daniel Kaluuya, Keke Palmer, Brandon Perea
Writer/Producer/Director: Jordan Peele
131 mins
In Jordan Peele's latest film, his third - Nope - we meet OJ and Emerald Haywood, a brother and sister played respectively by Daniel Kaluuya and Keke Palmer, as they take on the family business – Haywood's Hollywood Horses – after their father's sudden death in a disturbingly freak accident. What follows is a formally tight and visually expansive sci-fi epic that interrogates US cinema's production problems while synthesising Peele's own love for genre filmmaking. Anchored by two superb lead performances from a mean, moody, strong and silent Kaluuya and vivaciously hilarious Palmer, Peele flexes his aptitude for creating tension through both horrific and comedic effect – with sequences of raining blood and a hugely annoying praying mantis.
Cinematographer Hoyte Van Hoytema (who also works with Christopher Nolan) is instrumental in building this tension and creating the slick visuals that stun and unsettle simultaneously - as is sound mixer José Antonio García whose work here seamlessly moves between wholly suffocating and a breath of fresh air. Nope is certainly Peele's most accomplished work to date, walking the tightrope between high production values and innovative storytelling. But what's most refreshing is the trust Peele places in his audience to go with him through a recognisable world, that gradually becomes alien, without holding their hand.
Exposition is few and far between, but with Emerald Haywood providing the most essential piece. Early in the film, she introduces the family business to a production crew, asking "Did you know that the first set of photographs to create a motion picture was a two-second clip of a Black man on a horse?", and without labouring the point, this prepares us to see a UFO sci-fi action horror film about those people whom Hollywood was built upon. Peele's adult ideas are wrapped in robust, entertaining and highly re-watchable filmmaking. There's enough respect for the audience and abundant skill in the cast and crew to do both. Peele is unafraid to let the tension linger and acutely understands the difference between comedic relief versus undercutting with comedic 'rescue', toying with the silliness of genre filmmaking and challenging the predictable storytelling we have become numb to at every stage. Jordan Peele is at the top of his game and he's doing everything right - right now.