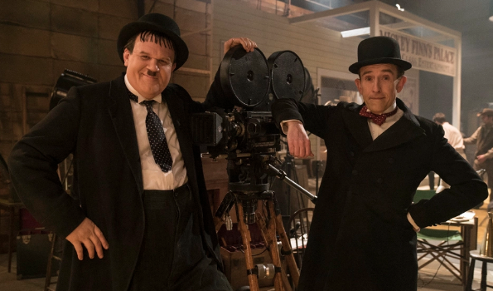 Cast: Steve Coogan, John C. Reilly, Rufus Jones, Shirley Henderson, Nina Arianda
Director: Jon S. Baird
98 mins.
If you're an avid consumer of gossip-heavy tabloids and magazines with news of divorces, births, miscarriages, and off-film-set fights, you may still think that actors do not have personal lives. Or maybe you believe that in their personal lives, they act in precisely the same manner as they do on the big screen. Take the example of Laurel and Hardy; i.e., Stan Laurel (Steve Coogan) and Oliver Hardy (John C. Reilly). During their sketches, routines and tiffs—and they had quite a few during their long careers on the stage and screen—Laurel would play the simpleton while Hardy would be the more sophisticated one who would condescendingly glare at his partner. Never mind that Oliver Hardy was fat, and that the excess weight would contribute to heart problems which found him losing over seven stone (100 pounds), in his final year. Also, that Stan Laurel was slimmer, more handsome and a writer. Both were clumsy on stage, but some people are clumsier than others - with Laurel having to take all the guff from Hardy on a regular basis. To prove the point, here we have Stan & Ollie, made by the Scottish-born director Jon S. Baird. Baird is known mostly for his television output but he has helmed two other feature films: Filth about a corrupt junkie cop with bipolar disorder, and Cass, the tale of an orphaned Jamaican baby raised by a white couple in a white neighbourhood. Interesting stuff, and disarmingly offbeat like Baird's current feature.
Baird's Stan & Ollie does spend time reviving the duo's later theatre period, concentrating at first on exposition with their producer Hal Roach (Danny Huston) and their first film together in 1921. In 1953 their careers looked ready to be wrapped up during a tour of Britain and Ireland playing to hugely disappointing numbers at the box office. However, they sprang back to life in London drawing a full house of laughing, applauding, and greatly appreciative audiences enthralled at seeing the duo they remembered so well from the films and stage appearances of the past. This owed much to the marketing savvy of their British promoter Bernard Delfont (Rufus Jones). There is some outstanding input here from the film's make-up team, (twenty-one people in total), each concentrating on working with John C. Reilly and Steve Coogan and the resulting, outstanding achievement of both -uncannily resembling the actual Laurel and Hardy. Reilly did not have to gain the excessive weight – instead being given a prosthetic double chin along with a padded belly, while others in the make-up department styled hair, special effects teeth, contact lenses and leaving some work for the mould maker and silicone technician. Solid supporting roles come from Shirley Henderson as Hardy's wife Lucille and Nina Arianda as Mrs. Ida Kataeva Laurel. The two women add to the comic touches; Henderson with her squeaky voice, and adding the visual disbelief of being a foot or more shorter and much slimmer than Reilly, while Arianda shows off her Russian accent and her assistance with her husband's drinking problem which she solves by grabbing each glass he picks up and knocking back the contents herself. Laurel and Hardy did not always get along in their private lives, although they seem to be as close as conjoined twins, travelling with each other, and dining together with their wives. They were savvy enough not to break up like so many duos who have always performed better as a team, though Ollie resented that Stan went on to act in a film without him at a time when Oliver was locked into a contract. Their bond is shown best when Ollie collapses with a heart condition - and much later passes away. Stan refused all offers to perform without his favourite partner though he continued to serve as a comedy writer. The film is a genial one, filled, if not so much by the belly laughs that Laurel and Hardy evoked throughout their careers, but with gentle humour. You may smile rather than laugh, but nothing will stop anyone seeing this from doffing their caps to this wonderful, genuinely lovely duo.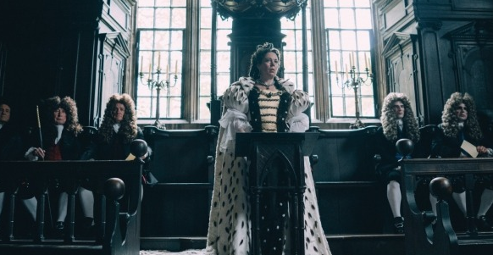 Cast: Olivia Colman, Emma Stone, Rachel Weisz, Nicholas Hoult, Joe Alwyn, Mark Gatiss
Director: Yorgos Lanthimos
120 mins.
It is the early 18th century in England, and Queen Anne (Olivia Colman), suffering from several undiagnosed ailments, is unprepared to deal with all the necessary duties of leading state. As England's battles with France rage on, she must maintain unity between the Whigs and Tories in Parliament to ensure that funds maintain the war effort whilst keeping the country's economy together. Fortunately for Her Maj, she has Lady Sarah (Rachel Weisz) to offer advice and help make these difficult decisions, often speaking for and in place of the Queen herself. Sarah's position is threatened, however, when her impoverished cousin Abigail (Emma Stone) turns up at court, looking for work in the regal arena. Slowly but surely, Abigail works her way up the hierarchy of the palace, proving herself to be helpful and cunning to Lady Sarah and the Queen alike whilst being enticed to help the leader of the Whigs (Nicholas Hoult). The role of servant and master is constantly blurred in this palace intrigue plot as multiple factions aim for slices of power for themselves and to be the true voice behind the throne. Yorgos Lanthimos' previous films such as Dogtooth, The Lobster and The Killing of a Sacred Deer, were extremely dark comedies that found much of their humour in the juxtaposition of dark subject matter and people's inability to use guile to hide less polite details. The Favourite is also a very dark comedy, but it dives headfirst into social artifice that is employed through passive aggression and catty comments. The stilted, deadpan delivery in Lanthimos' previous films is thrown aside for the flowery language of the time, delivering withering insults and verbal gymnastics. Also we have here a sumptuous world of wood panelling and fabrics, which still remain very plain and washed out, constantly instilling a sense of cold in a time and location that goes beyond the temperature. The Favourite is funny, but in a different mode than any other Lanthimos film, whilst remaining cold and distant, using natural lighting and period-appropriate elements to instill a sense of aloofness.
The actors are all impeccable, playing multiple parts within their roles as they switch between innocent and conniving, sincere and power hungry, and victim and victor in a manner of sequences that shows the elaborate power plays at work and the need for different tactics depending on the situation. Colman is particularly impressive as the Queen, who is at once vulnerable and manipulative, ignorant as well as passionate, a victim of ploys and a puppet master in her own right. You may find yourself pitying her, laughing at her, then resenting her as the film progresses. Hoult is also great as the scheming and incredibly catty head of the Whigs who is trying to get the ear of the Queen while dispensing acidic barbs about all of his various political rivals. But it's Weisz and Stone who are at the crux of the film, with their changing fates and power plays creating an engaging dynamic that will find audiences' sympathies shifting with every scene. The Favourite doesn't really feel like a Lanthimos film until the final scene. It's a moment when all becomes clear and that everyone is confined to the various constructs of their lives — in that no matter how free or rich or powerful one may be, there are always prices to pay to maintain these systems that often degrade and hurt people when control is the ultimate desire. This masterful director's fourth film is a visually stunning and chilling look at the forces people succumb to in order to perpetuate these social constructs that ultimately are shown to be hardly worth the effort.