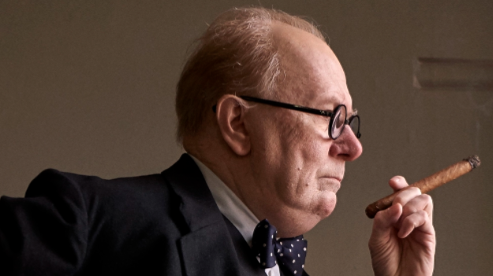 Cast: Gary Oldman, Lily James, Kristin Scott Thomas, Ben Mendelsohn, Ronald Pickup, Stephen Dillane, Samuel West
Director: Joe Wright
2hrs 5mins
Set in May, 1940, we see an anxious United Kingdom worried about the impending rise of Nazi Germany, under the command of Adolf Hitler. Out goes Neville Chamberlain, seen as an adequate Prime Minister in times of peace, but inept in terms of how to handle severe conflict, and the search is on for a replacement with the kind of leadership skills and savvy to get the UK through its toughest challenge yet. As the Nazis seem likely to continue their domination of Western Europe, the debate and division among the British politicians lies in whether to choose to mount a war and potentially suffer severely in defeat, or to come to terms through peace talks that would sacrifice their freedom in exchange for an (unlikely) favourable position under German rule. Receiving great pressure to appease, the hawkish new Prime Minister Winston Churchill must navigate deadly waters in trying to lead the British empire's survival in their 'darkest hour.'
Gary Oldman is unquestionably the main attraction in Darkest Hour, a biopic about the one-month period in the rise and tenure of Winston Churchill as the Prime Minister. He's the best thing in the film, by far, which, without his energy and occasional bombast, is just a handsomely mounted recreation of World War II history that has been covered in film a number of times in recent years, especially in showcasing the battle of Dunkirk in a year that has already brought us a cinematic treatment at home in Their Finest and in the air and sea in Christopher Nolan's majestic Dunkirk. Also of striking note is the amazing use of make-up and hair, especially in the very convincing methods to make Oldman look as much like Winston Churchill as possible without the "uncanny valley" experience that so often occurs when applying a fat suit and artificial prosthetics to give an actor who is younger and smaller in frame the heft and weather necessary to look beyond the character's appearance and accept him for the actual man himself. If there's a character actor who can sell it, it's certainly Oldman, who hugely impresses with his ability to connect to the material even in films that are otherwise lacklustre. Surrounding Oldman are a fine group of actors, including Kristin Scott Thomas as his no-nonsense wife, Clementine, and Lily James as his hard-working secretary, Elizabeth Layton, both roles beefed up in order to give good screen time to strong actresses of their calibre. Ben Mendelsohn is always a welcome presence as King George VI, which will draw contrast to the Oscar-winning portrayal of the same historical figure as Colin Firth in The King's Speech. Veteran actors Ronald Pickup, as replaced prime minister Neville Chamberlain, whose service has been seen as better suited for times of peace than war, and Stephen Dillane as Viscount Halifax shouldn't be overlooked for their contributions, providing formidable counterparts to up the intrigue of the political machinations that would see the fall of Winston Churchill from public service almost as soon as he had begin the process.
Though based on historical accounts and actual speeches, the film does shore up the drama in order to make for a more gripping yarn, including an eleventh hour London Tube ride in order to get the word on the street that might guide Churchill to make the decision to stick to his guns in confronting Germany, or to acquiesce in order to avoid being bombed out of existence. While contrivances creep in from time to time, the actors do a great job in selling these indulgences, and these moments add flavour and much-needed contrast to the inner-chamber politics that could make for a much more dry viewing experience for those looking for something more emotional and less wordy to connect them to the Churchill story.
In the end, Darkest Hour is an intelligent and thoughtful film about leadership and strength in the face of overwhelming odds, and how having the right person at the right time can make all of the difference in the fate of millions of people, especially in the power of well-placed and delivered words to inspire action. It truly is a beautiful film to look at, featuring performances to admire, coupled with a lush and beautiful score by Dario Marianelli, though its adherence to a tried-and-true formula delivery relegates Darkest Hour to being just another well-presented prestige vehicle constructed to garner awards consideration more so than to challenge or inspire as an exceptional piece of art.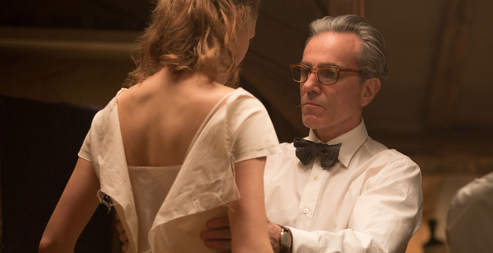 Cast: Daniel Day-Lewis, Vicky Krieps, Lesley Manville
Director: Paul Thomas Anderson
130mins
Phantom Thread, Paul Thomas Anderson's eighth film and second collaboration with Daniel Day-Lewis, is, as the saying goes, a riddle wrapped in a mystery inside an enigma. It doesn't give its secrets away, being at once elusive, mesmerising and confounding - and as elaborately and delicately crafted as the dresses designed by its protagonist Reynolds Woodcock (Day-Lewis). You're never quite sure where the story will be heading and by the end of the film, you may well, like me, leave the screening feeling elated, with the knowledge that what you have just seen was so unique, so unlike anything you've ever seen, that you have no choice but to revisit it again and again. This is Anderson's first film set outside the United States and it is also his least expansive, being a 1950s British chamber drama that takes place mostly indoors. Reynolds is a creature of habit - in the film's opening sequence, Anderson cuts from Reynolds preparing for the day —meticulously combing his hair, putting on his socks, etc.— with the arrival of his employees to his five-storey house and workshop which he shares with his sister, the oddly monickered Cyril (Lesley Manville) whom Reynolds tenderly calls "my so-and-so." It's a sequence choreographed, shot and edited with clocklike precision, Jonny Greenwood's piano and cello motif giving it a fairy-tale like feel. Routine is so important to Reynold's creativity that he berates his current muse when she interrupts his breakfast, and his sketching, with her complaints. "I cannot begin my day with a confrontation," he admonishes her. She is promptly shown the door by Cyril, new dress in hand. Breakfasts are extremely important for this overtly fussy and fastidious fashion designer, so much so that he finds his new muse while ordering a very hearty breakfast at a countryside restaurant. For she is the waitress Alma (Vicky Krieps).
Their initial courtship is playful, almost childlike: it starts with an invitation to dinner that evening and ends with him dictating Alma's measurements to Cyril and designing a dress for her. He takes Alma to their London house where she becomes as much of a fixture as his employees. She is spellbound by this world; he, on the other hand, sees her as another body he can use as a test subject for his designs, one that has neither voice nor vote in how he and his sister run things. Alma soon proves to be a disruptive figure in this carefully controlled environment as she loudly scratches butter on her toast and pours tea on her cup, perturbing Reynolds' need for silence during breakfast. She talks back to him and even encourages him to reclaim a dress he designed from a drunken dowager at her wedding party. She locks horns with Cyril for control of this man but is far more level-headed and calculating, knowing just when to step back and give Alma enough rope to hang herself. The spectre of death hangs over these proceedings even though no one actually dies, this despite Reynolds falling ill three times towards the film's second half. "It's comforting to think that the dead are watching over the living," Reynolds says early in the film, referring to his mother who taught him everything he knows about dressmaking. That same mother appears to him, in her wedding gown, during one of his feverish hallucinations. Later, as he ponders what to do with Alma, he mutters "There's an air of quiet death in this house." This obsession with death seems to underline the film's more Gothic and romantic elements; but while other directors would overstate its presence, Anderson underplays it. Death is just one of the many threads that are sewn together into a cohesive, beautiful whole. Then there's this one: "A house that doesn't change is a dead house," Cyril chastises Reynolds after he complains about a faithful client opting to go to another designer. Reynolds lives in such a tightly controlled space, that he refuses to let into his house the changes that are beginning to shake the fashion world. The absence of sewing machines, the focus on hand-sewing being the major element. This is a man who sees each and every one of his designs as a work of art, one that needs to be handcrafted with care and love, one that demands perfection. A craft that is on its final days, soon to be replaced by the far more colourful designs of Swinging London.
After playing larger than life characters in his last three films, it is great to see Daniel Day-Lewis take on a role that depends as much on silence as on dialogue. Reynolds brings him back home in more ways than one: it's not only his first British film in more than two decades but also it also allows him to tap into the registers he brought to his performance of Cecil in A Room with a View (1985) and Newland Archer in Martin Scorsese's magisterial adaptation of Edith Wharton's novel The Age of Innocence (1993). He portrays Reynolds as a temperamental, almost bipolar creature: one moment he can be the gentlest, most refined soul - the next a profanity-spewing child. His outbursts are shocking given the amount of time we see him quietly creating, sewing and measuring or convivially engaging friends over dinner. If this is indeed Day-Lewis' last film role, then he is leaving at the top of his game, his Reynolds a celebration, and summary, of his astonishing range and sublime craftsmanship. Vicky Krieps proves more than a match to Day-Lewis. Virtually unknown previously, Krieps brings to Alma a sense of mystery, of indefinability. She's coquettish and determined, enigmatic and strong-willed, her words quietly piercing through the force field Cyril and Reynolds have built around themselves. She is capable of hiding in the shadows, waiting for the right moment to impose her presence. She does not want Reynolds to take her love for granted and will use whatever means necessary have that love acknowledged and reciprocated in what ends up as one of the most subtly perverse relationships ever portrayed on the big screen. Phantom Thread rarely ventures outdoors. Sunlight streams through the windows of the House of Woodcock, and as photographed by Anderson himself who took on the role of Director of Photography, the filming is elegant, painterly, graceful. His camera glides across the rooms, he centre-frames his characters in tight close-ups, all edited and shot to the rhythms of Greenwood's equally sweeping score. It's a film that seduces even as it throws you off kilter. It is a work of art that beckons to be seen on the big screen countless times, especially in 70mm, a format which offers a new entry point into the film's many secrets and obsessions.