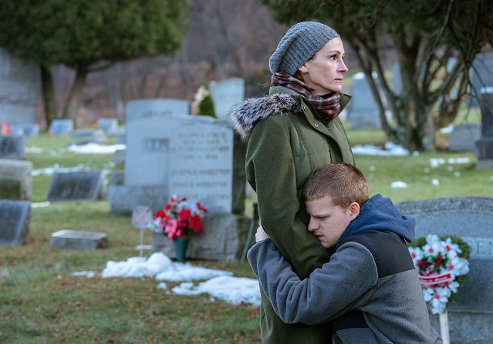 Cast: Lucas Hedges, Julia Roberts, Courtney B. Vance, Kathryn Newton
Director: Peter Hedges
103 minutes
It's the Christmas season in the home of a prosperous family as in the opening moments, they are preparing for a festive event in their local church, complete with costumes, flashing cameras and multi-tasking by maternal protagonist Holly (Julia Roberts). However, casting a shadow over this idyllic scene is the unexpected and not entirely welcome appearance of Holly's drug-addict son Ben (Lucas Hedges). Holly (for added cringe, her daughter is named Ivy) returns from the pageant rehearsal to find him skulking around in the driveway. Allegedly he was in the midst of a lengthy stint in rehab, but lo and behold, there he is. Ben claims he has no nefarious intent and has simply been released earlier than expected, but few believe him. Certainly not his suspicious sister (Kathryn Newton) who immediately notifies her stepfather (Courtney B. Vance). He arrives with a look on his face that suggests history is on the verge of repetition with Ben, and he is in no mood to show empathy for this unwelcome guest. Holly's reaction however is more complex. Roberts plays her as a woman embodying opposing realities — possessed of a deep-rooted, almost paranoid suspicion about Ben's true intentions, but vulnerable enough to nurture a belief in the possibility that he has actually changed for the better. She decides upon a strategy of cautious trust – and allows Ben to stay, as long as she administers drug tests – therefore, in the process, constructing a fragile domestic truce.
Until this point, the film is relatively credible, and extremely well-acted. Hedges (working with his writer-director father Peter) plays Ben as haunted and furtive, and events transpire to show that he has good reason to be both. It is here that the film takes a melodramatic turn, and it is quite an abrupt and severe change of direction even to the extent of switching stock from digital film to HD video. There is a break-in at the family home, their beloved mutt Ponce has been stolen, and to set things right, Ben — in his fragile state and on the knife-edge of relapse — must re-visit several of the sordid people and locations of his recent pharmaceutically-fuelled past. Since he can't be trusted alone, his mother comes along for a sordid midnight Christmas Eve tour revealing people Ben knew and some of the grim activities he'd been involved in. We meet those who fed his addiction, those who exploited it – allowing an assessment of the damage Ben did when drugs were his love. There is legitimate value to this as the film clearly shows the way that addiction cuts across class and background, taking victims wherever they find them, as just beneath the town's placid surface is a parallel narrative, invisible or ignored, of suffering and sorrow. Ben is Back, operating with the flexibility of fiction, flirts with the idea that a mother's intuition and love can be decisive, even as it acknowledges the pitiless, relentless nature of the addiction.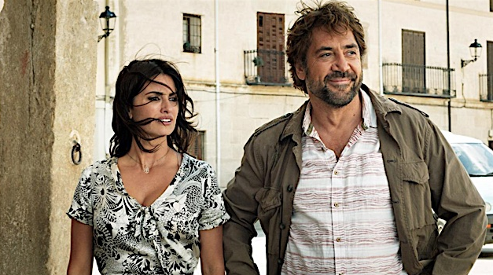 Cast: Penelope Cruz, Javier Bardem, Ricardo Darin, Eduard Fernandez, Barbara Lennie, Inma Cuesta
Director: Asghar Farhadi
133 minutes
The mixture of plot twists and moral shading, the focus on flawed characters and irresolvable pasts, all feature within Everybody Knows as the film wrestles with these dilemmas, ultimately successfully. This is Iranian filmmaker Asghar Farhadi's first work in Spanish and stars Penelope Cruz as Laura, a wife and mother who returns to the village where she grew up after years of living in Argentina with her husband, Alejandro (Ricardo Darin). The reason for the reunion is her sister's wedding, which brings joy but also anxiety for Laura. While she's happy to see her family after being gone for so long, there's an overriding tension: why has she been so absent? Also making things complicated is that this is the first time in a decade that she's seen Paco (real life husband Javier Bardem) who owns a vineyard and was once Laura's lover. However all that's seemingly in the past since he's now happily married to Bea (Barbara Lennie). Of course, old lovers and complicated families don't go away quietly, and those ingredients are the basic building blocks of this film, and once Everybody Knows gets rolling, we raise our antennae, preparing for the shockwaves to come. The wait isn't long as during the festive wedding reception, Laura's teenage daughter Irene (Carla Campra) is taken ill, requiring her to go to her bedroom for some rest. Hours later, Laura goes to check on her, discovering the door locked. Even more alarming, when she breaks it down out of concern, she sees that Irene is gone. No one has seen her: Is it a prank? Or something much more serious? Soon, a text message arrives, alerting Laura to the fact that her daughter has been kidnapped—and that the criminals will kill the girl if anyone contacts the police. With Alejandro back in Buenos Aires, Laura will need to decide what to do. And because of their shared history—Paco and Laura, we are told, basically grew up in the same house—Paco pitches in to help.
Everybody Knows becomes a hunt for Irene, but she serves as a phantom—a vessel by which the rest of the characters can tear each other (and themselves) apart. Soon, arguments over what to do about this kidnapping unearth old emotional wounds. Did Paco and Laura really end things as amicably as they thought? What's the real reason Alejandro didn't accompany his wife to the wedding? And could Irene's abduction actually be some elaborate hoax? And if so, who's behind it? There is an Agatha Christie-like tenor to Everybody Knows, which presents us with a vast canvas of characters who may or may not have information regarding the kidnapping. But there's no Hercule Poirot on hand to brilliantly dissect the clues—instead, there's only Laura, her anxious husband and the tormented Paco, who takes Irene's disappearance surprisingly personally. Unfortunately for Paco, his wife notices this and grows increasingly suspicious of the man she thought she knew. Amidst a quite superb cast, Bardem and Cruz are both strong, playing characters who haven't let go of the past. Farhadi skillfully moves his protagonists around the chessboard, with only Lennie feeling fully untethered, as her wild card of a character refuses to be reined in by her husband.