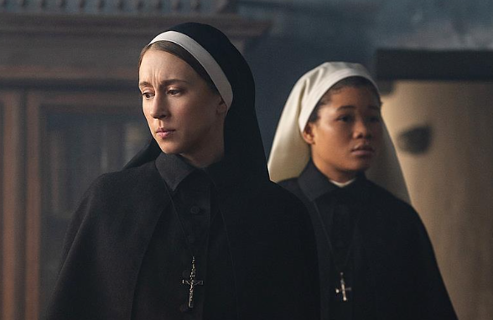 Cast: Taissa Farmiga, Jonas Bloquet, Storm Reid, Anna Popplewel, Katelyn Rose Downey, Bonnie Aarons
Director: Michael Chaves
I hour 48 mins

A completely plotless debacle is what "The Nun II" turns out to be. It took three screenwriters to work on characters created by James Wan and Gary Dauberman, and they've meandered their way into giving two survivors from "The Nun I" another battle with a demonic menace, with Bonnie Aarons offered an excuse to adopt a murderous Marilyn Manson-look in a habit. Any attempt to explain and motivate the murderess might well be the lamest bit of plot-engineering I've seen in years. It's shoe-horned in, dropped into the plot by research we don't see, and supposedly carried out by young Sister Irene (Taissa Farmiga). Irene has to make haste by rushing to France, to a Catholic girls' school where a teacher (Anna Popplewel) and her student-daughter (Katelyn Rose Downey) are among those being menaced by some shadowy presence, dreamed about and glimpsed in shadows, and in the film's highlight moment, manifested in a collage created by a hellish wind that blows over the titles on a newstand's magazine rack.
That school is where "The Nun I" survivor handyman Maurice (Jonas Bloquet) ended up. The deaths are gruesome, the jolts cheap and quite frankly, rubbish, and the best effect is keeping the madly made-up Aarons in the shadows, to behave as menace incarnate. The most hilariously inane thing that happens however, is having the He-Man Girl-Hater's Club known as the Vatican, nominate a plump, over-pampered archbishop stereotype to summon Nun-survivor Irene, who is just a slip of a thing, to find out just what this demon is up to this time. And, of course, deal with it - as she is the only one who has experience with the monstrous entity. Even taking her 20-something best pal from the convent (Storm Reid) along with her, tells us there are going to be two over-matched young women tossed about like little rag dolls, hoisted into the air and choked, and who will only survive if the Satanic Sister (Aarons) or some minion or cloned manifestation of that Nun gets bored to tears with torturing them to death. I was bored to my own tears for near enough 108 of the 108 or so minutes of this utter mess.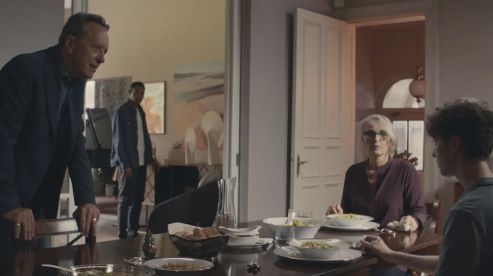 Cast: Daryl McCormack, Richard E. Grant, Julie Delpy, Stephen McMillan, Crispin Letts, Tomas Spencer
Director: Alice Troughton
1hour 42mins
Alice Troughton's debut feature, The Lesson, is a strangely hypnotic, opaque mystery. Richard E. Grant plays J. M. Sinclair, an industrious and irascible British novelist who, after a highly successful career, has apparently retired from the literary world to enjoy his life on a large, leafy estate with his son, Bertie (Stephen McMillan), and his wife, Hélène (Julie Delpy), who rarely speaks and constantly gazes, stock-still, through her spectacles. Apparently, the Sinclairs' eldest son, Felix, a talented writer and reader, drowned himself in the family lake following some unfavourable criticism from his father. J.M. and Hélène rarely, if ever, now mention Felix, as they eat meals to a background of classical music whilst indulging in petty squabbles. Then arrives the unassuming Liam Sommers (Daryl McCormack), a young aspiring writer hired by the Sinclairs to sufficiently tutor Bertie in the hope that he'll eventually be accepted into Oxford University. He and Bertie have daily meetings in the garden to discuss the work of Shakespeare and soon become friends, sharing roll-ups and discussing the severe behaviour of Bertie's father. Meanwhile, in the room opposite Liam's, Sinclair Senior taps relentlessly on his laptop as he develops his next novel, entitled Rose Tree, which oddly bears no resemblance to any of his previous output.
Being a huge fan, Liam knows everything about Sinclair's work and life as is possible, and although Sinclair doesn't have much to say about his writing process, except that it's a necessary part of his existence, nor of his personal life, he is clearly semi-mysterious, although most of his personality and behaviour becomes fairly apparent as the film develops, with his sole philosophy on the secret of writing being a simple one: "Good writers borrow, but great writers steal." How Sinclair operates as a domineering husband to his wife, and father to the couple's surviving son Bertie, and how Liam uses this chance to learn as much about him as possible, creates a tension - as Hélène's pleasant demeanour and Bertie's sarcastic attitude vanish the moment Sinclair enters the room. Grant wonderfully subverts what can be his effortlessly charming persona in the role, making it plainly apparent what an effort it is for Sinclair to stretch something resembling a smile on to his face. McCormack too is excellent as he plays the sympathetic but enigmatic blank slate of a protagonist, whose motive seems apparent, but whose ultimate aim might not be as innocent as it initially appears. There are secrets here, of course. Most of them are about the extent of Sinclair's destructive personality, as well as how much that behaviour has damaged his family members, but there are others that come to drive the plot-heavy third act. These include the sudden appearance of an elaborate and unclear scheme revolving around multiple copies of a manuscript and Liam's remarkable ability to recall large pieces of text on-demand. Beneath its classy surface, The Lesson covers issues such as art, inspiration, class, sexism, betrayal and revenge in an enjoyable low-key excursion, with superb performances from an excellent cast.