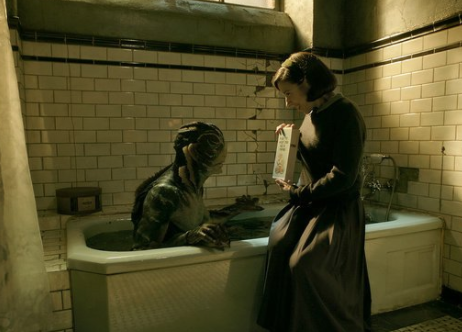 Cast: Sally Hawkins, Michael Shannon, Richard Jenkins, Doug Jones, Michael Stuhlbarg, Octavia Spencer, Nick Searcy, David Hewlett, Lauren Lee Smith, Martin Roach, Allegra Fulton, John Kapelos, Morgan Kelly
Director: Guillermo del Toro
2hrs 3mins
A warm, generous spirit of affection and insurrection washes over Guillermo del Toro's The Shape of Water, a Cold War-era fairy tale that submerges you in the fantastical realm of the director's vivid imagination, only to swell into a watery allegory for today. It is, one suspects, the film Del Toro was born to make. Lushly composed, vividly realised, The Shape of Water is lovingly designed to send you floating out to sea on a carnal bed of enchantment and acceptance. If that sounds a little much, that's true, too, of The Shape of Water. It's an exceedingly dreamy experience so intoxicated with itself that it's sometimes easier to admire Del Toro's classically composed film than to genuinely swoon for it.
With shades of "Beauty and the Beast," this is a tale of love between a mute cleaning lady, Eliza (Sally Hawkins), and a merman (Doug Jones) who has been captured from the Amazon and hauled back to 1962 Baltimore by a cattle prod-wielding military man named Stickland (Michael Shannon). At a secret government laboratory where Eliza and her talkative friend Zelda (Octavia Spencer) mop up all manner of vile excretions, the amphibious man is studied and tortured but mostly kept chained in a murky pool so he can't be taken by the Russians. Eliza lives above a grand cinema where business is drying up. Her friend and neighbour is a gay, out-of-work artist named Giles (Richard Jenkins), who draws wholesome pictures of American families as a freelancer for an advertising company he used to work full-time for. It's his voice, in the film's glowing opening, that introduces the tale of "the princess without voice." The camera drifts through a flooded apartment where Eliza sleeps on a floating divan while Alexandre Desplat's romantic score thrums.
We later learn that Eliza is an orphan whose throat was thrashed as a baby, and who was found in a river. So she has an affinity with water, and, after setting an egg timer for precision, masturbates in an overflowing tub. Her courtship with the merman begins with an egg, too, only with the crackle of an opened hardboiled one, which she sets out for the creature. Del Toro's fables may be sweet, but they aren't tame, and one of the best things about The Shape of Water is that it's a fairy tale that not only doesn't hide from sexuality, but fully embraces it. The film's lustful soul is written across Hawkins' face as it lights up in mischievous delight. A love story between two voiceless creatures — one finned, the other not — The Shape of Water is a fable to counter the one America long told itself and that some still cling to: of the supremacy of the straight, white, male Bible-thumper. "We're created in the Lord's image," says the married, Cadillac-driving Strickland. He's talking to Eliza and Zelda and quickly corrects himself that it's more him who appears godlike. Eliza, Giles and Zelda are all second-class citizens, at best, in the world of The Shape of Water, but they — along with a rogue Russian spy (the reliably excellent Michael Stuhlbarg) — will plot what amounts to an uprising. Del Toro's dream is one where outsiders of any kind struggle to free themselves from the chains of supposed decency. The film's rousing call-to-action is a silent one, signed by Eliza but with her words captioned across the centre of the screen: "If we do nothing, neither are we." Nothing is out of place in The Shape of Water, especially its heart. The entire cast is flawless, as is the lavish production design and sumptuous cinematography. The film won't ever surprise you and you'll have no doubt of its message. It simply swims along exactly as you'd expect, through currents both whimsical and ominous, as if striving for light from the bottom of the sea.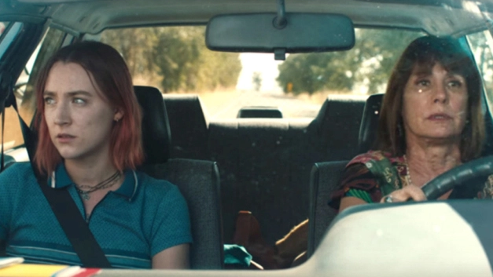 Cast: Saoirse Ronan, Laurie Metcalf, Lucas Hedges, Tracy Letts, Lois Smith, Odeya Rush
Written and Directed by Greta Gerwig
1hr 33min
Greta Gerwig is no stranger to working behind the camera, having co-directed Nights and Weekends with Joe Swanberg and co-written several films, most notably Frances Ha and Mistress America with director and partner Noah Baumbach. With her latest, the semi-autobiographical Lady Bird, Gerwig emerges as a filmmaker with her own distinct voice. While her take on the coming-of-age film might hit familiar notes—prom night, idolising the "popular girls," losing one's virginity, passing from high school to college—her authentic characterisations and poignant yet sharp-witted dialogue help the film transcend such well-worn tropes. Taking place in Gerwig's hometown of Sacramento in 2002, Lady Bird follows rebellious Catholic schoolgirl Christine (Saoirse Ronan) during her last year of high school. There is no ham-fisted nostalgia here, despite a few off-hand references to 9/11, the Iraq War, and dial-up internet. Gerwig evokes that specifically senior-year feeling of adulthood's rapid approach through a swift editing style, offering a dynamic rhythm that conjures the sense of finite time she has with family and friends, a patchwork of energetic montages propelling Christine, and the story, forward. She also navigates misguided relationships with the drama club's leading man (Lucas Hedges) and a brooding bandleader and faux radical played by Call Me by Your Name rising star Timothée Chalamet.
Christine re-christens herself "Lady Bird," a sobriquet emblematic of her desire to fly far from her pedestrian hometown, which she calls the "Midwest of California." She dreams of residing in New York City, a world away from her home. Gerwig depicts the homogeneity and tedium of her educational environment with a satirical geniality; schoolgirls receive citations for short skirts and stand in pews vacuously reciting prayers, and at one point Lady Bird ties a "Married to Jesus" sign to a nun's car. Her school is not a dogmatic and formidable institution as seen in so many films about Catholic education, for Gerwig takes pains to show that its kindly nuns strive to help Lady Bird rise above her lack of scholastic achievements.
At its core, Lady Bird is a mother-daughter love story. Lady Bird and Marion (Laurie Metcalf) share a tempestuous relationship; their exchanges will often mutate from tears to laughter to indignation within the span of a few minutes. The film's first scene illustrates the capricious nature of their interactions: Lady Bird and Marion are weeping to The Grapes of Wrath audio book before Lady Bird waxes poetically about living in "Connecticut or New Hampshire where writers live in the woods." Marion bluntly calls her a snob before their arguing ascends into a cacophony. Fed up with her mother's sarcastic premonition that she's destined for prison or City College, Lady Bird jumps out of the moving car, eliciting a horrified scream from Marion. It is a testament to the strength of Metcalf's nuanced performance that whenever she delivers a disparaging line to Lady Bird we understand it comes from a place of love. Marion's off-hand comment about growing up with an alcoholic mother accounts for her inability to express herself to her daughter and the tensions that result from their miscommunication; since she never experienced an amicable maternal relationship, she finds it difficult to foster one herself. Against Metcalf's weary intensity, Saoirse Ronan imbues Lady Bird with a dogged sincerity as she pursues her lofty aspirations, and superbly delivers Gerwig's almost constant flow of deadpan remarks. As in Brooklyn, Ronan fully inhabits the bewildering chasm between girl and womanhood. The warmth and sincerity of Greta Gerwig's film offers an eccentric individualism with her nimble approach to form and flow of dialogue. Gerwig also boldly rejects the idea that stories about teenage girls have to focus on romance. Instead, Lady Bird's arc centres on the quest for a sense of self, which speaks to the importance of having female directors tackle stories from their own points of view.