KILLERS OF THE FLOWER MOON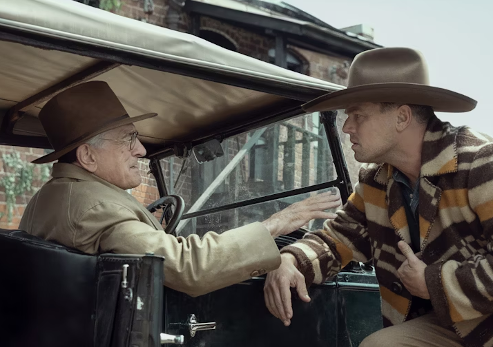 Cast: Leonardo DiCaprio, Lily Gladstone, Robert De Niro, Jesse Plemons, Tantoo Cardinal, Cara Jade Myers, JaNae Collins, Jillian Dion
Director: Martin Scorsese
206 mins.
A great American tragedy of entitlement, greed, and corruption, Martin Scorsese's Killers Of The Flower Moon is a saga of astonishing scope and psychological depth that, in many respects, demands the blockbuster treatment. Arriving as a three-and-a-half-hour, Oscar-primed epic — one that cost Apple and Paramount Pictures more than $200 million to make — this late-career work from one of our finest living filmmakers sees Scorsese take a more subtle, sophisticated approach to the story than one might expect, given the magnitude of its production. In the process, Killers of the Flower Moon subverts both his own artistic tendencies and the Western genre. It's a remarkable step forward for the 80-year-old filmmaker, who re-imagines the potential of the big-screen epic to reckon with history. The story centres around Mollie Kyle (Lily Gladstone, an American actor of Blackfeet and Nimíipuu heritage) who serves as the film's searing conscience. Based on David Grann's non-fiction book of the same name, Killers of the Flower Moon is a tale of moral rot and criminal enterprise cast in a dramatically different mould from Scorsese's gangster epics, where the Osage Nation became extraordinarily wealthy after abundant oil deposits were discovered on its land.
The saga begins as a series of deaths rock the area and devastate the family of Mollie Kyle (Lily Gladstone), a rich Osage woman whose tribal land rights are of significant interest to wealthy cattle baron William Hale (Robert De Niro) and his slow-witted nephew Ernest Burkhart (Leonardo DiCaprio). As Ernest courts and marries Mollie, the murders continue. In his adaptation, Scorsese discards Grann's whodunnit structure, disclosing the identities of the killers and making clear the role Hale and Ernest play in perpetuating these atrocities against the Osage. Indeed, it's two hours into the film before federal agent Tom White (Jesse Plemons), a key figure in Grann's book, arrives to investigate the murders on orders from J. Edgar Hoover. Scorsese's decision to focus the narrative on malevolent Hale, complicit Ernest, and bitterly anguished Mollie, and on the horrific moral contradictions of Ernest's relationships — between husband and wife, and nephew and uncle — marks a significant departure from the source material, narrowing this vast sweep of history into something more hauntingly intimate.
Scorsese shifts focus from pistol-twirling lawmen and other such iconic Western figures. Aesthetically, too, he steeps the film's scene-setting in foreboding, imploring us, the audience, to look closer. Whether in slow-motion tableaux of the Osage dancing beneath a gushing eruption of oil or silent newsreel footage that depicts the forced relocation of their nation to this area of land, Scorsese re-assesses the Osage murders in personal terms. By focussing the film around a most twisted marriage, Scorsese makes the film as emotionally unfathomable as traditional Westerns are geographically unbound. He accounts for the spiritual cost of the crimes. He does this by hinging the story on Gladstone, who acts as the film's searing conscience. As Mollie, her performance of calm dignity and unimaginable suffering conveys the soul and spirit of a woman caught between worlds. Grieving the loss of her people and their way of life, unable to comprehend the motivations of anyone who would enact such violence, Mollie is often seen in quietly agonised contemplation. The film swells in her lengthy silences, as Gladstone's expressive features, her wide eyes ringed with fatigue, bear witness to atrocity. Gladstone's momentous performance is in direct contrast to Scorsese regulars DiCaprio and De Niro, sharing the screen in one of his films for the first time, who minimise their typical star presence in favour of creeping moral decay. Through her living monument of a performance — which serves as a repudiation of Native peoples' erasure from their own narratives, especially in a film of this scale — Killers accrues a corrective, directly condemnatory power. The result is a bleak, dispassionate portrait of white greed at work and a film directly in conversation with the classic Western.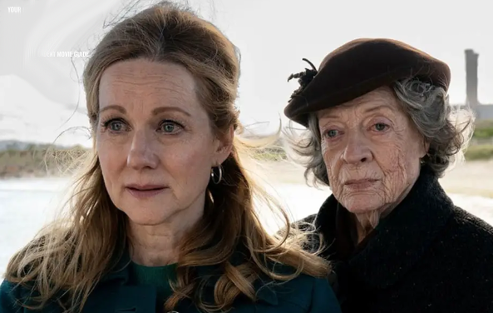 Cast: Laura Linney, Kathy Bates, Maggie Smith, Agnes O'Casey, Mark O'Halloran, Stephen Rea
Director: Thaddeus O'Sullivan
91 mins.
Thaddeus O'Sullivan's The Miracle Club is a film that may not appeal to the hard-nosed cynic. These days it's hard not to associate Maggie Smith with fare like Downton Abbey, a series for which I am not the target demographic, but lo and behold, screenwriters Joshua D. Maurer, Timothy Prager, and Jimmy Smallhorne have together created a heartwarming tale of women's solidarity centered around faith and forgiveness that suits Dame Maggie to a tee. It's 1967 in Dublin and the locally adored mother of Chrissie (Laura Linney) has sadly passed away, prompting her estranged daughter to return to Ireland from the U.S.A. for the funeral. However, she's less than welcomed by the friends and family of her mother. Apparently, Chrissie was forced to leave Ireland as a young woman to avoid a scandal, the details of which are gradually revealed – and it's fairly safe to say the reason will resonate with modern audiences. Will Chrissie be able to overcome her history of scandal in the community? Several women orbit our lead. The first is former friend Eileen (Kathy Bates). Then there's Lily (Maggie Smith), a hobbled matriarch, while Dolly (Agnes O'Casey) is a young mother struggling to connect with her mute son and brutish husband. All of these women have personal struggles, but are united by the difficulties of living through a traditional society that doesn't place too high a value on the social and mental well-being of women.
An opportunity to go on a pilgrimage to the French city of Lourdes subsequently provides hope for miracles, both large and small. The cast of The Miracle Club is stacked with talent, so it's what will draw most to the film in the first place, and the players more than give it their best. Linney gives a convincing, world-weary performance. Bates, too, excels as a strong character with no shortage of vitriol. Considering the variety of roles she's had throughout her career, it's not unreasonable to assume at this point that the woman is capable of anything. Smith has nothing left to prove at this point, but at 88 years old, she's still managing to make audiences laugh. The Miracle Club may not be for everyone. There are moments when the writing is overly-saccharine, and more of an edge to spice up the narrative would have been helpful. Still, O'Sullivan and his crew do an excellent job. While at first glance, it may not seem to be relevant to this generation of film-goers, it increases in relevance as the narrative unfolds. The Miracle Club is an inspiring and emotional experience - and there's nothing wrong with that.