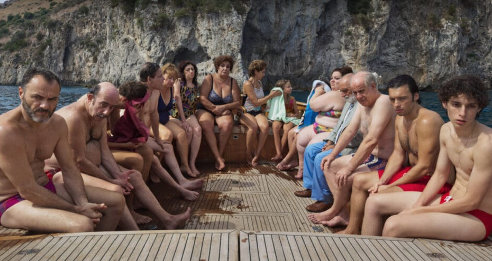 Cast: Filippo Scotti, Toni Servillo, Teresa Saponangelo, Marlon Joubert, Luisa Ranieri, Renato Carpentieri, Massimiliano Gallo, Betti Pedrazzi
Director: Paolo Sorrentino
130 min.
Italian movie maestro Paolo Sorrentino has long entertained and wowed worldwide cinemagoers through such films as Il Divo, This Must Be The Place, The Great Beauty and Loro. His work is marked by beautiful composition, sublime editing, and exquisite design, all of which operate in harmony to considerable dramatic effect. The spectacle, as enjoyable as it may be, always contains more than an element of gravitas at its core. Now, in The Hand Of God, Sorrentino establishes a more serious tone, still embracing his considerable cinematic skill. The result is a profound tale, autobiographical in nature, and a labour of love, an elegy of innocence lost and a praise of triumphant vocation found. Filippo Scotti plays the teenager Fabietto Schisa (called Fabié by family and friends). It's the mid-1980s in Naples, and he lives a carefree life in the company of his happy-go-lucky parents and older brother. They're not rich, but well-off enough to be able to afford a home by the shore to supplement their flat in town. They, and the extended relatives, gather frequently for boisterous reunions, made slightly unsettling by the encroaching mental illness of Fabié's stunning and lascivious Aunt Patrizia (Luisa Ranieri) whom all the men ogle, especially since she enjoys being naked. The film opens with Patrizia, following an opening quote from Argentinian footballer Diego Maradona (whom the Naples soccer team desperately wants to sign) that leads into a helicopter tracking shot towards the bustling seaside metropolis. We land on a car, which contains San Gennaro, patron of the city. In one of Sorrentino's patented bouts of fantastical mise-en-scène, the long-dead saint offers Patrizia, on her way home, a ride, though he first takes her on an adventure meant to activate her apparently sterile womb. By the time she arrives home, her husband is furious, accusing her of promiscuous behaviour. Fabietto and his parents arrive just in time to witness the ugly aftermath. But it's not all jealousy and violence. Mum (Teresa Saponangelo) and Dad (Toni Servillo) share genuine love and affection, even if we later discover a sad secret about their marriage.
Brother Marchino (Marlon Joubert) glumly accepts his increasingly failed dreams of becoming an actor. A film is being shot in the town, and although Fabié doesn't quite yet know what he wants to do, he is drawn to the evocative film set. He also wants to find a girl and his father tells him to get it out of the way, no matter with whom. And then the hand of God does strike, in the form of a random tragedy, ripped from Sorrentino's own past, that changes everything. Devastating as the consequences seem, life must go on, and in the coping, Fabié begins to find his way and follows his dad's earlier advice). All of this is assembled with Sorrentino's usual care as we move into the more sober tone of the second half. In addition, there are some wild adventures involving a cigarette smuggler and an aging baroness – and of course Maradona.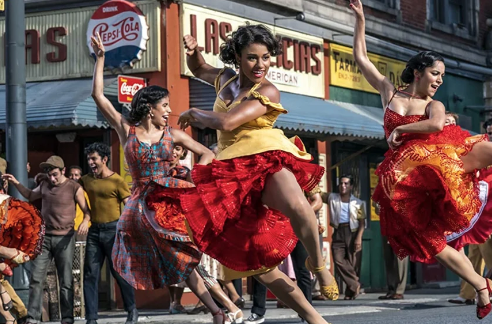 Cast:
Ansel Elgort, Rachel Zegler, Ariana DeBose, David Alvarez, Mike Faist, Rita Moreno, Josh Andrés Rivera, Iris Menas, Brian d'Arcy James
Director: Steven Spielberg
156 minutes
With West Side Story, a lavish new adaptation of the timeless musical, Steven Spielberg finally unleashes his third 'cover version' following War of the Worlds and Always (remake of A Guy Named Joe) and West Side Story seemed like a safe choice for his first full-blown foray into the musical genre. Jerome Robbins' rousing stage show, first performed in 1957, remains a towering popular classic with the songs, courtesy of Leonard Bernstein and the late lyricist Stephen Sondheim, being loved by so many audiences, but in offering his own take on this Broadway standard, Spielberg is also competing with the epic 1961 adaptation which swept the Oscars and has been adored over the years ever since. Spielberg though, knows better than to reinvent the wheel. His West Side Story boasts no new songs and only a couple of small tweaks to the tale within, which transports Romeo & Juliet to the streets of Upper West Side New York back in the 1950s. Here, reformed teenage hoodlum Tony (Ansel Elgort), one-time leader of The Jets, falls in love at first sight with Maria (Rachel Zegler), the younger sister of sworn rival Bernardo (David Alvarez), who's the head honcho of the Puerto Rican gang The Sharks. Those who know the tragic trajectory of the story will be familiar with how the narrative transpires.
The film opens with a sweeping overhead survey of the New York slum area where the plot unfolds, as construction crews tear down old buildings to make room for new ones. The pointless adolescent turf war between the rival factions the Jets and the Sharks opens with them all at each other's throats in a quest for territorial dominance, oblivious to the fact that everyone else views them as nothing short of vermin. Spielberg underlines these warring factions with a striking overhead shot of their shadows converging during a confrontation, merging into a huge silhouette of impending disaster. With a new script by playwright Tony Kushner discarding the whitewashing of the 1961 version, the Puerto Rican characters are all portrayed by Latin actors and the film goes further towards cultural authenticity by utilising a flowing mix of English and Spanish dialogue. The unavoidable problem with this West Side Story however is the casting. Ansel Elgort is the foremost weak link in a cast of moody upstarts and unknowns. He tries to bring an enigmatic, simmering attitude to the role, but he fails to fully convey the breadth of the character's blooming infatuation. From his lips, "Maria" is merely a song, not the hugely expressive Broadway ballad to beat them all. The rest of the cast pose along, but the performances suffer in comparison to the turns of their predecessor in the respective roles. Rita Moreno returns to bring a wearied wisdom to this new version in the newly created part of Tony's shopkeeper boss and mentor. The real star here though is in the staging, as Spielberg races around his dancers, mirroring the physicality of the choreography through his signature long takes, to gain a clear vantage point on the spectacle. He films portions of "Tonight" through the bars of a fire escape, emphasising the barriers between Tony and Maria. Spielberg knows, though, not to mess with the songs. There is no improving upon this soundtrack featuring some of Broadway's greatest show-tunes. What he's ultimately given us is a reverently faithful production, putting on West Side Story with panache and a sensibility that teeters, impressively, between classical and modern. Can it compete with the last screen version? Maybe not—that adaptation, for all its outdated qualities, has earned its eternal grip on the imaginations of cinemagoers - and in time the comparisons may become even more obvious.