FILM STARS DON'T DIE IN LIVERPOOL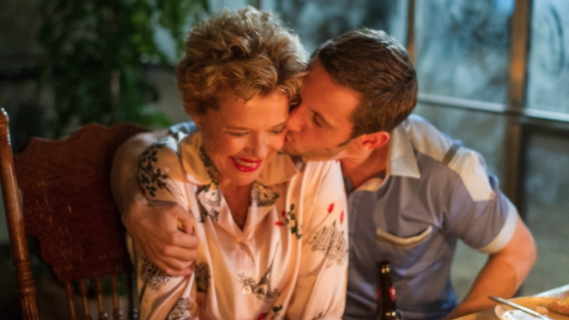 Cast: Annette Bening, Jamie Bell, Julie Walters, Kenneth Granham, Stephen Graham, Jodie McNee, Vanessa Redgrave, Frances Barber
Director: Paul McGuigan

105 mins
Actress Gloria Grahame who won an Academy Award for her performance in 1952's "The Bad and the Beautiful", also had roles in numerous other Hollywood features including "It's a Wonderful Life", "Oklahoma!" and "The Greatest Show on Earth". Married four times, her post-divorce no.4, mature-age romance forms the focus of "Film Stars Don't Die in Liverpool". Annette Bening plays Grahame in this film, based on a 1986 memoir by Peter Turner, who met Grahame in 1979 when the actress moved to Liverpool to star in a play. He was 28, she was in her mid-50s. Despite falling in love, a happy ending was not in the script. Jamie Bell (of "Billy Elliot" fame) plays Turner. Bening receives top billing, but it's actually Bell who occupies more of the screen time, as this is really Peter's story about how Gloria entered his life and changed it forever.
Scenes with Peter's family (including his mum, played by Bell's Billy Elliot co-star Julie Walters) are mainly of them all pontificating around the kitchen table. One personal beef is the criminal under-use of the outstanding Stephen Graham, here playing a stereotypical curly-permed 80s scouser 'la'. Bening and Bell are fine together, but the relationship highs and lows of Gloria and Peter are, frankly, fairly mediocre in terms of dramatic content. However there is a hugely enthralling climactic scene through a pivotal sequence that's both emotionally gripping and devastating, and is a fine showcase for Bening. Here we find what acting, celebrity, Peter and life itself all mean to Gloria – and we can't help but feel for her when all of these start slipping away. Director McGuigan incorporates real-life images and actual cinema-reel footage of Grahame into scenes with Bening and Bell, including when the couple is watching one of her old films.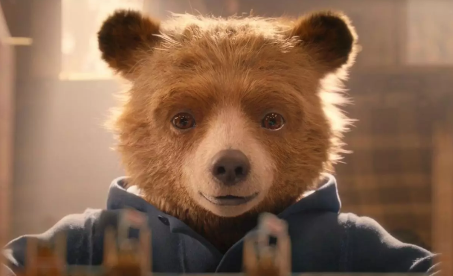 Cast: Ben Whishaw, Hugh Bonneville, Sally Hawkins, Hugh Grant, Brendan Gleeson, Madeleine Harris, Samuel Joslin, Julie Walters, Jim Broadbent, Peter Capaldi, Noah Taylor, Tom Conti
Director: Paul King
105 mins
The cast of 'Paddington 1' plus a fine array of cameos and a quite magnificent turn from Hugh Grant as the ghastly/beastly Phoenix Buchanan, all assemble for this riotously enjoyable sequel, which again combines silly chaos with a fine mix of adult/child humour. With a fast pace and a simple but highly amusing plot, all these characters are becoming indelible, and with director Paul King's surreal touches, the whole thing is ridiculously endearing. Paddington bear (Whishaw) has found the perfect gift for his beloved Aunt Lucy's 100th birthday: a hand-made pop-up book of London landmarks. Alas, however, antique shop owner Gruber (Jim Broadbent) won't reduce his high asking price, so Paddington has to find a paid job to earn the necessary. He begins by disastrously cleaning windows and grimly hairdressing, but what he doesn't know is that has-been actor Phoenix (Grant) is well aware of the secret held within the desired book - it will lead to a wonderful treasure hidden within by his great-grandmother. So nasty/horrid Phoenix nicks it, and in the process, he frames Paddington for the theft - so off our hirsute hero trots to begin his penal servitude. His new adopted family consisting of Bonneville, Hawkins, Walters, Harris and Joslin, all set out to clear his name. The biggest slapstick set-pieces that follow, feed straight into the overall storyline and create some deliciously inventive sequences. Whishaw's voice for Paddington exudes charm, mischief and curiosity, and the beautifully meticulous animation is quite striking in its realism. Paddington's most enjoyable interaction this time is with the notorious and feared prison chef Knuckles (a glorious Brendan Gleeson), concluding the film with a marvellously hysterical mid-credits finale (make sure you don't dash off too early!).
It's obvious that the entire cast is having a ball but it's Hugh Grant who shamelessly steals the show as the hammy actor with a penchant for disguises. He is hilarious throughout, and the fantastic lines of colourful sarcasm in the dialogue beautifully undercut any sentimentality. Quite simply this is a must for anyone from 1-100 (just like Aunt Lucy!) - despite the ongoing mystery of his missing on/off red wellingtons ...