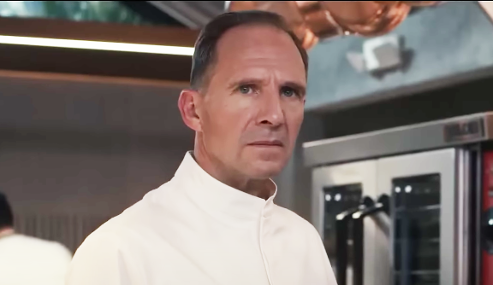 Cast: Ralph Fiennes, Anna Taylor-Joy, Nicholas Hoult, John Leguizamo, Aimee Carrero, Janet McTeer, Rob Yang, Arturo Castro, Mark St. Cyr, Reed Birney
Director: Mark Mylod
Offering an intriguing premise – allied to a superb cast, including a further reminder if another was needed, that Ralph Fiennes is one of the few actors who can be chillingly terrifying whilst showing his subtle grasp for comedy, The Menu is hugely entertaining. When Margot (Anna Taylor-Joy) is invited to a destination dining experience on a date by Tyler (Nicholas Hoult), she hasn't the remotest clue just what to expect from the revered Hawthorne Island Restaurant. However, as each course is presented, it becomes clear from Chef (Fiennes) that this venue's food experience is destined to be quite unlike anything else. Having previously directed Succession, Shameless and Game of Thrones, Mark Mylod is certainly well-versed in dark comedy, which is exactly what he brings us with The Menu. The brilliant dialogue from Seth Reiss and Will Tracy (who both also worked on Succession), gradually builds each character through broad social commentary. Each guest at the dinner (John Leguizamo, Aimee Carrero, Janet McTeer, Rob Yang, Arturo Castro, Mark St. Cyr and Reed Birney) is there for a specific reason, with each provided with sufficient lines to establish themselves. Fiennes is both scary and unexpectedly funny, adding brevity to the narrative but at no risk to the increasing tension.
Proceeding, prior to each course, is punctuation through Fiennes' Pavlovian singular handclap which occurs throughout the film. It's intricately designed with concise architecture, which allows for a gripping experience contained within a tight conceptual space. You'll find yourself forced into deliberation on the pretensions of served food and how insanely absurd the snobbery of it can become. The film is playful and thought-provoking in all the right ways, holding up a mirror to higher society's increasingly superficial consumption of art. Mylod has proven himself to be an extremely versatile filmmaker with The Menu being best served by your attendance at a screening.
Roald Dahl's Matilda The Musical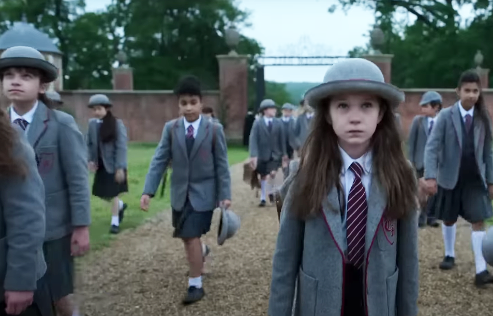 Cast: Alisha Weir, Emma Thompson, Lashana Lynch, Stephen Graham, Andrea Riseborough
Director: Matthew Warchus
117 minutes
Based on the Royal Shakespeare Company's hit musical, the Matilda we get here, formally titled Roald Dahl's Matilda The Musical and with the excellent score by Tim Minchin – is a whimsical delight that should encompass and perhaps for many, every expectation. For anyone who didn't grow up on the Dahl books, Matilda tells the story of a tiny genius (an astonishingly good Alisha Weir as Matilda Wormwood) who is despised by her own parents (a superbly caricatured double act from the brilliant Andrea Riseborough and the magnificent Stephen Graham). Her mother calls her a "good case for population control"; her father calls her "a troublemaking goblin". They simply can't understand a girl who wants to spend her days reading books and writing stories, rather than be stuck in front of a tv set like them. When they finally, reluctantly, enrol her into a school, she's met with the best and worst of adulthood: her sweet-natured teacher Miss Honey and the grotesquely tyrannical head Miss Trunchbull (a sublime Emma Thompson). She is nurtured by one, terrorised by the other – both of which help Matilda grow in courage, intellect, and (as she discovers) telekinetic superpowers.
Director Matthew Maurcus who led the original stage production, has a welcome confidence in his young cast. There's an inherent theatricality in the staging and a complexity in the choreography as lunch tables are dramatically pulled away so that the students have room to leap, pirouette, and stomp with wild abandon. There are disco-inflected choirs and Busby Berkeley-style top shots of circling dancers. The cast is extremely talented and above all Weir, who's perfectly cast, fulfils Matilda's mischief, as she does her loneliness.