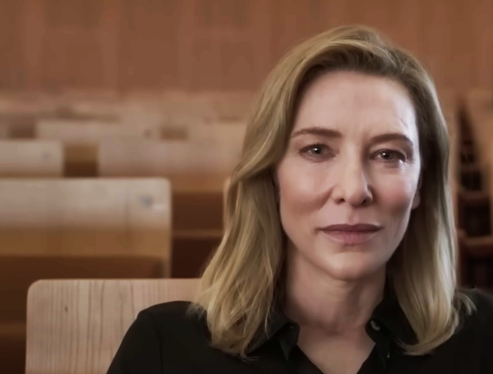 Cast: Cate Blanchett, Nina Hoss, Mark Strong, Noemie Merlant, Sophie Kauer
Director: Todd Field
2hrs 39min
Tár is a gripping character study held together by a quite astonishing performance from Cate Blanchett - set in the world of classical music. Director Todd Field has re-surfaced after many years away, with a film that he must hope will transcend the philistine barrier and find a wide range of viewers. Lydia Tár (Blanchett) is a genius-level conductor/
composer, a protegée of Leonard Bernstein, and the first female conductor of the esteemed Berliner Philharmoniker. Tár opens as she prepares to record Mahler's Fifth Symphony.
Lydia lives with her partner Sharon (Nina Hoss), who is also the orchestra's first violin and concert master. Apparently some years earlier, the pair came out as a high-profile couple, with their mildly troubled adopted daughter something of an afterthought, given the huge demands of their profession. Sharon offers home life and stability and above all, a shared and profound dedication to music. Lydia finds romantic intrigue elsewhere however, mainly through her aspiring young musicians. It's rumoured in whispers that she's a "groomer" who amps up the careers of her sexual partners. Francesca (Noemie Merlant) is an ambitious young conductor and probably former lover who has been censoring emails to Lydia from a dangerously distraught ex. The first indication of potential difficulties for Lydia appears in a masterclass she's teaching at Juilliard. Apparently Max (Zethphan Smith-Gneist), identifies as BIPOC pangender (an acronym that stands for "black, indigenous, and people of colour" and it uses person-first language) and states 'they're' "not into old white guys" like Bach, a cis (short for cisgender (pronounced sis-gender, or just sis) - a term that means whatever gender you are now is the same as what was presumed for you at birth) patriarch who apparently fathered 20 children. Lydia retorts with her declaration that she's a "U-Haul lesbian," (a stereotype of lesbian relationships referring to the idea that lesbians tend to move in together after a short period of time (e.g., after the second date). It suggests an extreme inclination towards committed relationships. Depending on context, the term can be considered humorous, complimentary, or pejorative) who focusses solely on the music, and slams the student's point of view as "robotic" and dictated by social media. This put-down will resonate when she's forced to deal with social media in ways she could never have predicted. "Fucking bitch," the student mutters, leaving the class.
Tensions increase after Lydia sacks a longstanding orchestra figure, undermining her support base. She's on even thinner ice when she indulges more than a professional interest in musician Olga (Sophie Kauer), the gifted Russian cellist who is a new addition to the orchestra. Over lunch Lydia's eyes sweep the charming young prodigy with an almost lustful gaze. The orchestra's resident first cellist, who would under normal circumstances be obvious choice for this top job, is not amused. The film really takes off in its scenes of Lydia and the orchestra playing Mahler's Fifth, stopping the players every few bars. "It's got to be like one person singing their heart out." Blanchett inhabits the role to an uncanny degree as she teases out multiple nuances of the work with her androgynous allure, the creamy glow of her skin and at-times masculine slouch. Tár might be seen by many as a cautionary tale about the abuse of power, but really it's more about someone with an outsize ego - although on some level the film does, in fact, slyly take a position on cancel culture. Also it's about esteemed celebrities who, despite a despicable past, continue to work.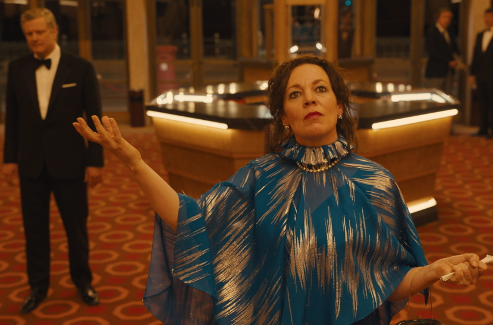 Cast: Olivia Colman, Micheal Ward, Tom Brooke, Colin Firth, Toby Jones, Tanya Moodie, Crystal Clarke
Writer/Director: Sam Mendes
113 mins
Hilary (Olivia Colman) comes to work as the deputy manager of the Empire cinema, located by the seaside. It's an empty, quiet but charming establishment, with very few customers, although Hilary is attentively there along with her co-workers to greet everyone who does walk through the doors. She isn't too happy with her life, and doesn't spend leisure time with her co-workers, while her existence is often marred by emotionless sex with her boss (Colin Firth). However, the arrival of new employee Stephen (Micheal Ward) changes everything, as he ignites a spark in Hilary with the two beginning a romantic relationship. From this point on, Empire of Light attempts to balance every narrative thread.
We are reminded of the time period that the film takes place in, the 1980s, when people who look like Stephen are relentlessly pursued by racist skinhead thugs. Within this, writer/director Sam Mendes explores the tension between Hilary and Stephen as they're forced to keep their relationship a secret from everyone else. Colman and Ward successfully portray the body language that hints at the rift between them, but the lacklustre script doesn't offer up nearly enough drama. The 'forbidden romance' between Hilary and Stephen is somewhat over-emphasised with popular culture references to help convey the historical backdrop they're functioning within, and Mendes complicates the film with another too-thin story thread touching on Hilary's history of mental illness. These are bunged into the narrative with a scarcity of introduction or resolution, and even when Colman demonstrates an exceptional range of anger, frustration, desperation and heartbreak, the film falls short on the dramatic front. Later, the script introduces two new characters - Stephen's mum (Tanya Moodie) and a new girlfriend (Crystal Clarke). We even get to spend some time in his house, giving us interesting access to his own personal family struggles. Toby Jones is good value as the cinema's projectionist, and a scene between Ward's Stephen and a racist audience member is well achieved, but had the film been focussed more on Hilary's mental illness or a more intense play on racism in the 1980s, the project could have been a distinct success. The film is certainly very well-acted and lovingly presented, but all-in-all it's still too slight and as a result disappointing, coming from someone of Sam Mendes' previously peerless creative stature.